The Pioneering Care Partnership welcomed the return of Tony Blair to Newton Aycliffe.
The PCP is a charity set up in 1998 with the initial main aim to manage a multi-use health and wellbeing building.
In 1998 the then Prime Minister proudly laid the foundation stone, and with the 20-year milestone approaching, PCP jumped back in time to welcome Mr Blair through the doors once more, along with Phil Wilson MP.
An avid supporter of the charity, Blair chatted to staff about the vast range of projects and services that the organisation now provides both in the centre and across the region.
The former PM was pleased to meet Carol Briggs again, former PCP chair and current trustee, who was also present at the opening of the centre nearly 20 years ago.
Blair also heard about plans to raise over £200,000 for the refurbishment of the well-used Hydrotherapy pool and was particularly interested to hear about the scale of funding challenges for the sector.
"The vision and aspiration to develop the Hydrotherapy Pool is extremely admirable," said Blair.
"Whilst the fundraising target is ambitious, I am sure with the support of local business, donors and corporate support PCP with make the dream reality.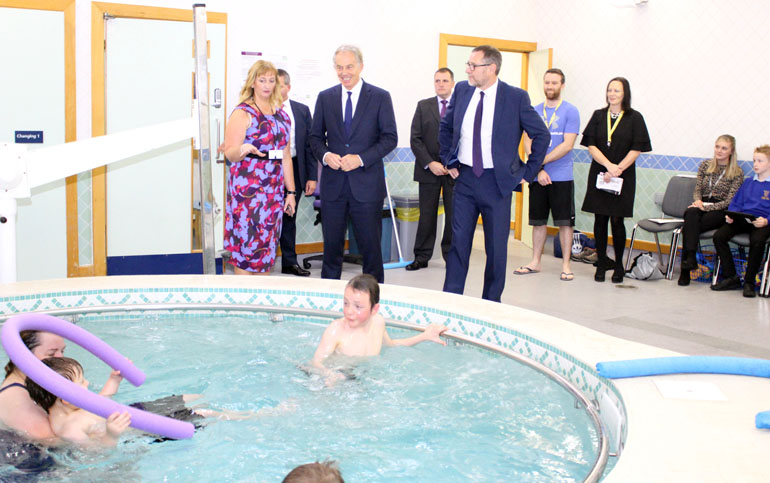 "It was a pleasure to visit the Pioneering Care Centre again and to see how it's developed over the past 20 years.
"The positive action trustees, leaders, staff and volunteers have taken to provide such a range of projects and services for local people is remarkable."
PCP chief executive Carol Gaskarth added: "We discussed at length the difficulties in raising funds, particularly capital funding, for renovations such as the Hydrotherapy Pool.
"These costly facilities have a natural shelf-life and do need replacing after a while to continue to be effective; we talked about the role that the business sector could play and the avenues PCP hopes to explore in the coming months."