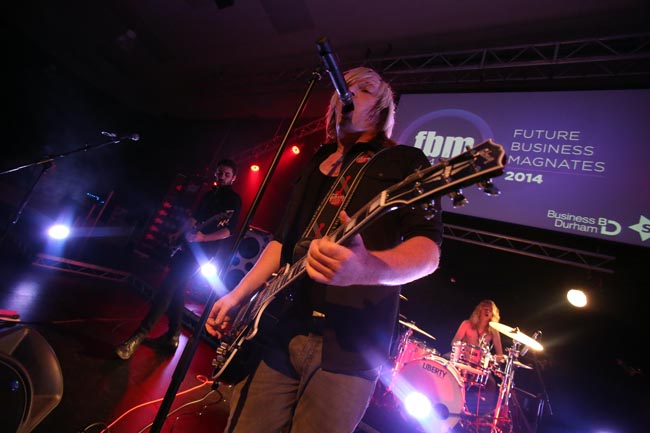 The annual Future Business Magnates competition was held at the Xcel Centre in July. Martin Walker reports on what's becoming an important educational event for local businesses…
Business Durham might just have the Midas Touch.
No sooner had I sat down with Gary Chaplin from Business Durham to discuss this year's Future Business Magnates event, than we'd been rudely interrupted by a call.
It was Twister; the local band Gary had booked to play at this year's glittering awards ceremony at the Xcel Centre on Aycliffe Business Park.
The four-piece group, from Peterlee, had just been signed up by Universal Music, the UK's leading music company and home to artists such as Take That, Florence & The Machine, Mumford & Sons and The Rolling Stones, no less.
"But don't worry," lead vocalist Stevie Stoker reassured a worried-looking Gary. "We'll still do your gig."
Of course, despite their potential stardom in the offing, Twister honoured their booking for Future Business Magnates and delighted guests with an impressive repertoire of cover and self-penned indie, pop and rock tracks.
It was an entertaining end to an eight-month competition which started back in November, when year 8 school groups (second year pupils, in old money) were married up with local firms to work on this year's event, and perhaps fitting that potential stars of tomorrow in Twister would share the same auditorium as County Durham's potential future business magnates.
CLICK HERE TO SEE OUR SPECIAL VIDEO FEATURE
Gary is Enterprise Development Manager for Business Durham, the business gateway to Durham County Council, and says this year's event was the best yet.
Organisers decided to tweak the focus of the competition to take on a Science, Technology, Engineering and Maths (STEM) theme. It worked a treat.
"Changing the focus of the competition has led to the teams coming up with better products," said Gary.
"We challenged young people and businesses to solve today's problems with tomorrow's technology, and some of the ideas were amazing.
"It's a hugely rewarding project to be involved with. In fact, I'd go as far to say it's a glorified hobby. The satisfaction from organising it, seeing the young people enjoy it and seeing businesses engaging with education so passionately is priceless."
Business Durham took ownership of Future Business Magnates four years ago, while the next competition, due to start in November this year, will be FBM's 10th anniversary.
BD's Business Development Director Sarah Slaven says this year's event had the largest number of schools involved to date – 24 out of the 34 secondary schools within the county.
"I was part of the judging process and every team that we saw came across as enthusiastic about the experience they've had," says Sarah.
"We had a STEM theme this year because we want to educate young people about the job opportunities there are in the science, technology and engineering sectors.
"The actual night was their reward and the enthusiasm and excitement in the room was fantastic."
Newton Aycliffe schools aren't unfamiliar with FBM. They embrace it, and receive great support from local firms.
Greenfield Community College won the competition last year and also won best team award this time around.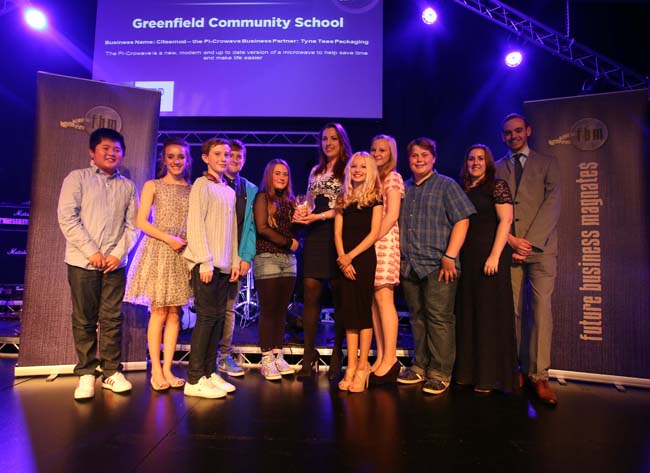 Greenfield Community College were awarded best team award at the FBM event.
Their product was a clever device which would scan a QR code on food products which would then automatically programme a microwave to cook the food at the right setting and time.
Greenfield's core leader on the group this year, ICT teacher Simon Tait, told us: "We've had a lot of success in the past and it's great for the young people to carry on that legacy.
"To win most effective team was brilliant because they have put a lot of hard work in and they did work brilliantly as a team.
"The competition is invaluable. The students can have a contact in the real world and see how things work, and the businesses can come and see what we're doing in school and to have that interaction with the students, it makes it all gel together."
Businesses of all shapes and sizes clearly see the benefits of getting involved with FBM. Aycliffe manufacturers Ebac has been keen ambassadors for a number of years, while recruitment firm Temp Team led on Greenfield's win last year.
Ebac Managing Director Pamela Petty told us: "I think it is really important for local business and schools to know and understand each other, from the head teacher and owner/MD to the teachers and managers to the students and staff.
"The best way is for the students and staff to work together, and FBM is a great framework for this to happen.
"Students get an insight into the different types of business there are locally and the different types of jobs, by thinking of an idea for a business and then working as a team to prepare a business plan to execute that idea. In many cases the students actually put the business into practise and make and sell.
"And for Ebac, the staff that mentor the students are challenged by taking them out of their comfort zone in their work place and working with the students to guide them through the FBM process, keeping them motivated and on track isn't always easy – but it's always worthwhile.
"It's tremendous to see a group of students that at the start have nothing in common other than attending the same school make the transition into a slick team, all working towards a shared goal. Just like in the world of work!"
SMEs may argue it's easier for larger companies like Ebac to afford resource to FBM.
Try saying that to Trevor Forsyth, Managing Director of Inspection & Engineering Services (IES), who has a small team based at Evans Easyspace.
Trevor – while juggling the demands of running his highly-successful Ju Jitsu Club in Aycliffe – worked with King James I Academy in Bishop Auckland on this year's competition and came third overall.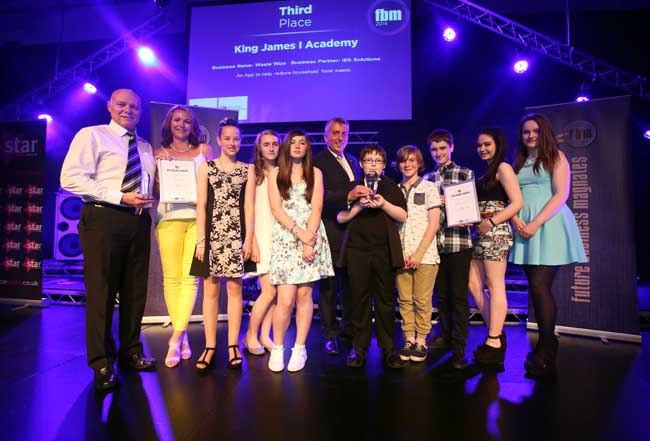 Trevor Forsyth (pictured left), from Aycliffe firm IES, with his King James I Academy group who came third overall.
"It was a great experience," said Trevor. "Working with the kids, finding out some of their ideas and encouraging them to develop their own ideas and nurturing them to develop that.
"I think it's massively important for businesses to get involved in things like this, as well as hugely rewarding.
"Some of these kids have some great ideas. It won't lead to business for all of them, but it may well instigate something within them to push forward in school or later on in life."
Durham County Council chairman and Mayor of Durham City John Robinson says FBM is hugely important to the county.
He said: "We've seen 200 young people go through this year and they've come up with some magnificent programmes and products – many businesses would have loved to come up with some of the ideas.
"Having spoken to the schools, the children have learned so much from the businesses, ready for when they move on to taking their GCSEs and, later, further education.
"But the businesses have also gained from the children and their enthusiasm, and what the future generation wants.
"A lot of companies have told me they're going to change the way they do things after learning what they have from Future Business Magnates, so both sides have learned a lot from working together.
"And we've even had a company say they're going to take on board one of the winning schemes. Clearly, you don't need Dragon's Den in County Durham!"
Businesses can get involved with FBM very quickly and easily.
Sarah adds: "We know there's a lot of businesses that want to engage with schools, but don't always know the best way of doing it.
"We provide a format for that and a way in which businesses can engage with education.
"Every business that gets involved learns something from being involved, and we find once they've done it they're very passionate about it."
CLICK HERE TO SEE OUR SPECIAL VIDEO FEATURE
• To get involved in the next Future Business Magnates event, call Gary Chaplin on 03000 261252 or email [email protected]