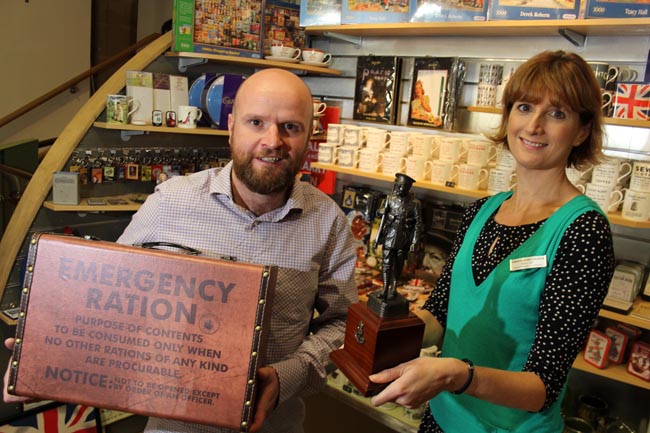 A prestigious museum in the region has been given a new brand as a £1.7m regeneration project comes to an end.
The Green Howards Museum in Richmond, North Yorkshire, was given the Heritage Lottery Fund cash to give it a face-lift.
And Newton Aycliffe inbound marketing and design agency, Thrive Marketing, has completed a rebrand of the long-standing military museum.
Integral to the Richmond area and close to the hearts of the nearby residents, the re-development has been garnering huge excitement.
Thrive were recommended to the Green Howards by quantity surveyor, Thornton Firkin, who have overseen the redevelopment of the church building, in Richmond's Trinity Church Square, where the museum is based.
Johnny Woods, Creative Director at Thrive, said: "The Green Howards is such a prestigious name, with unbelievable heritage.

"We put everything into the pitch and branding, as we knew what importance the museum holds in its local area and for those associated with it."
Taking a chief role on the rebrand project was Thrive's Graphic Designer, Tom Mather, who successfully implemented four core values in the final brand design: strength, heritage, honour and expertise.
Focusing on the Roman numerals, XIX – meaning 19, as The Green Howards was the 19th Regiment of Foot – Thrive has ensured that the brand's new identity incorporates the museum's ethos, future ambitions and personifies the history of the regiment too.
Green Howards Communications Co-Ordinator Fiona Hall, pictured with Johnny above, said: "Johnny and the team impressed us with how quickly they understood what we were trying to achieve and their willingness to be flexible and creative to get the job done.
"Their pitch for the branding project was exceptional in its understanding of our needs as a military history museum which is keen to be forward-looking, fresh and welcoming to future generations of visitors."
The branding is in the process of being rolled out across the website, promotional materials, printed literature and external signage, as well as the extended regimental family, including, the Green Howards Association and Friends of the Green Howards Museum.
Following the local agency's rebrand, they are now in discussion to do further work with the Green Howards brand, alongside Fiona and her expert team.
If you would like to see the new brand, the museum team are looking forward to welcoming visitors once more when it reopens on Remembrance Sunday at 10am.
For more information about Thrive Marketing Limited's services, visit www.thriveability.co.uk, call 0845 838 7517 or email [email protected]