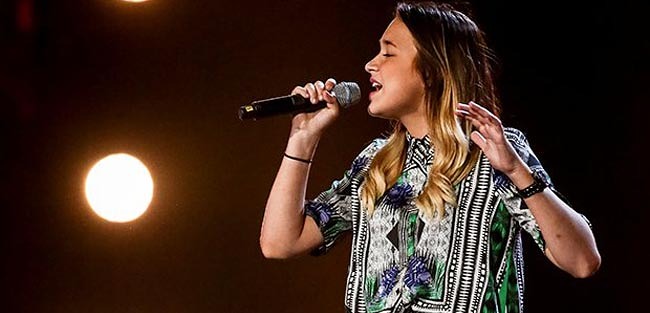 Aycliffe Today writer Zoe Skerritt continues her review of the popular TV talent contest…
The second week of lives shows brought us an 80s themed show and another double elimination.
After Louis lost two acts in the first week, there were 14 contestants fighting for 12 places and I'm sure he was desperately hoping his final two would be safe.
Kicking off the show was Jack Walton with an amazing cover of Paula Abdul's Straight Up on the guitar before going into an upbeat song that personally I think sounded great, but Louis wasn't too keen.
The rest of the boys were pretty good too although Andrea Faustini, the nation's favourite, wasn't as strong as he has been. I admire his bravey to take to the stage with a Whitney Houston classic though!
Ben Haenow had a tough week was put on voice rest to make sure he was able to give it his best and it clearly worked. He caught my attention straight away with Jealous Guy and even Simon thought it was amazing.
Jake Quickenden, one of my favourites, sang a song a little too big for him. He was keen to show off his vocals with Total Eclipse Of The Heart, but I think he took it a little too far and came across as shouty.
I wasn't too impressed with Paul Akister either, His confidence is lacking compared to the others which will be hard as we get further in. From one scale of confidence, to another though, Stevi Ritchie sang Rick Astley's Never Gonna Give You Up in true karaoke form, which is exactly his style. Somehow though, he just works it and it is so right for him.
Finally of the boys was Jay James. He sang a song I really don't like, The Proclaimers – I'm Gonna Be (500 Miles) but transformed it into something absolutely incredible and unrecognisable in his own laid back yet passionate style.
Personally I don't think the girls had a very strong week. Of course, Lauren Platt was my ultimate favourite and I think she'll be in right until the end. She even charted in iTunes last week! Her soft and sensual rendition of What A Feeling really blew me, the judges and I'm sure, the audience away.
Stephanie Nala ditched her squeaky voice this week but still didn't manage to win me over. It was better than last week but that's about all I have to say.
Let's not even get started on Chloe Jasmine! She completely changed the classic, Fame, into her own style and it didn't work at all. Even Simon agreed that she'd be in trouble in the vote.
There was also Lola Saunders singing a John Lennon song that she really oversang. Unfortunately it distracted us away from the song and wasn't one of her best performances. The same goes for Fleur East, the judges had mixed views on her performance but there's one thing about her everyone agrees on – she really knows how to put a show on.
Finally there were the groups. I'm still thinking that eight is far too many – they can't even all fit through the stage doors at once – but you have to admit that Stereo Kicks harmonise and fit together so well. Some are clearly better than others but when you put them together you can feel the chemistry between them in the song.
There was also Only The Young, singing a song I absolutely hate which you'd expect to hear in a rowdy put, not on the X Factor stage – Come On Eileen. Although it was good and they managed to put their own spin on the song nothing compares to their first audition.
With the first live show over there were some people clearly in danger: Chloe Jasmine and Stephanie Nala were the obvious ones but I thought that Paul Akister and Stereo Kicks would have something to worry about too.
Sunday's show saw performances from Jessie J and Maroon 5 before Dermot announced the all-important votes. Stephanie Nala was first out and Chloe Jasmine and Stereo Kicks were left in the bottom two fighting for their place.
Praying that Chloe would be leaving the stage for the last time, only Cheryl voted to save her and my wishes came true.
Week two is over and Cheryl also lost two acts in one go. Mel B and Simon still have all four of their acts but that could all change next week.