By Colin Young
Open to business and open for business, The Work Place delivers exactly what it says on the black and white road sign.
Opened in 2008 and owned by a charity, the eye-catching structure is very much open to the businesses of Aycliffe as a centre for meeting, learning and working.
You will have seen the sign as you drive along Heighington Lane, and it points to the purpose-built business, conference and training centre, nestled behind the trees.
The building provides office space over two floors which is now full and is a thriving centre of activity as a home to 11 businesses as diverse as Durham County Council, Terabyte, Baltic Recruitment, Ei, PCP, Unity Foster Care, Warrens Emerald Biogas, Britgrocer, SCITT, Patrick Lonergan Recruitment and Excelpoint.
The Work Place offers so much more than office space and is encouraging businesses across Aycliffe to see what is behind the sign and discover the modern haven available for holding meetings and conferences or accessing the range of First Aid and Health & Safety training courses on offer.
The Work Place was the vision of Jane Ritchie MBE, a former careers adviser, who was unexpectedly left £9m by her distant cousin Margery Freeman.
Jane had a burning desire to create a learning facility in Newton Aycliffe and invested most of her inheritance through her charity to create The Work Place, which was initially built as a vocational learning centre.
In 2019 more than 16,000 clients and visitors walked through its doors and over 5,000 clients have attended the well-established and dynamic range of First Aid and H&S training courses over the past eight years.
A Place to Learn
While the business has seen many changes, the charitable aim to provide learning remains through the training arm of the business as The Work Place specialises in the delivery of First Aid and Health & Safety Courses which can only benefit local businesses.
The Work Place is an accredited centre with Qualsafe and Highfield awarding bodies and its team of three experienced professional trainers delivered over 79 courses last year, with 100% of attendees saying they would recommend The Work Place for training.
Courses currently offered by The Work Place include: Emergency First Aid At Work (one day), First Aid At Work (three days), Fire Warden, Health and Safety in the Workplace, Food Safety in Catering, Emergency Paediatric First Aid, Paediatric First Aid, Mental Health First Aid (Youth) Awareness and Mental Health First Aid Champion (Youth). Essential First Aid for School Students is also available.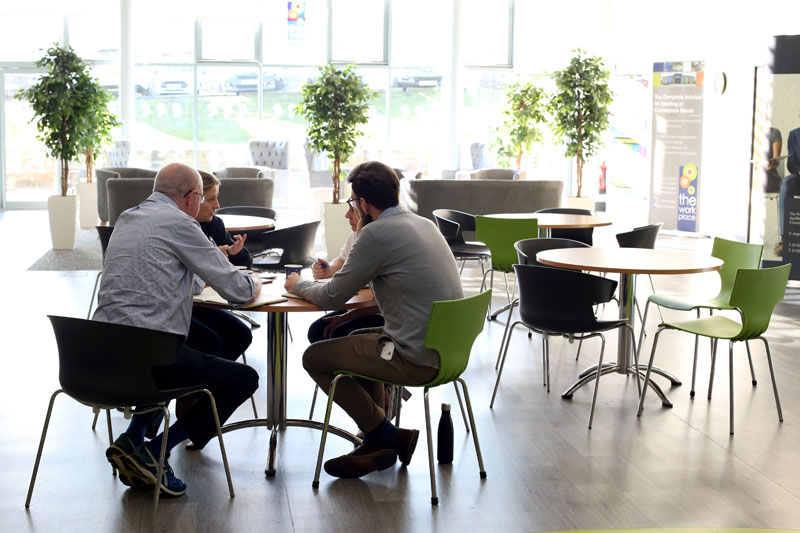 Prices range from £45 +vat for the half-day Fire Warden course, the one-day Emergency First Aid at Work course costs £65 +vat and £165 for the three-day First Aid at Work course. The centre offers ABP companies a special rate for the Emergency First Aid at Work Course (one day) for only £495 +vat for 12 delegates. All courses include a light lunch and refreshments for delegates throughout the day.
The Work Place business manager Angela Wilkinson said: "We are situated in the middle of the business park and would like to encourage private businesses to access our facilities and training, there are a large number of businesses who probably still don't know we are here, but once inside they can see it is a great facility and will come back.
"When the building first opened it suffered an identity crisis but now the message is clear.
"We are a business, conference and training centre and we are very much here for the businesses and enterprises on the park. Our doors are always open and clients should come and have a look at what we have to offer."
A Place to Meet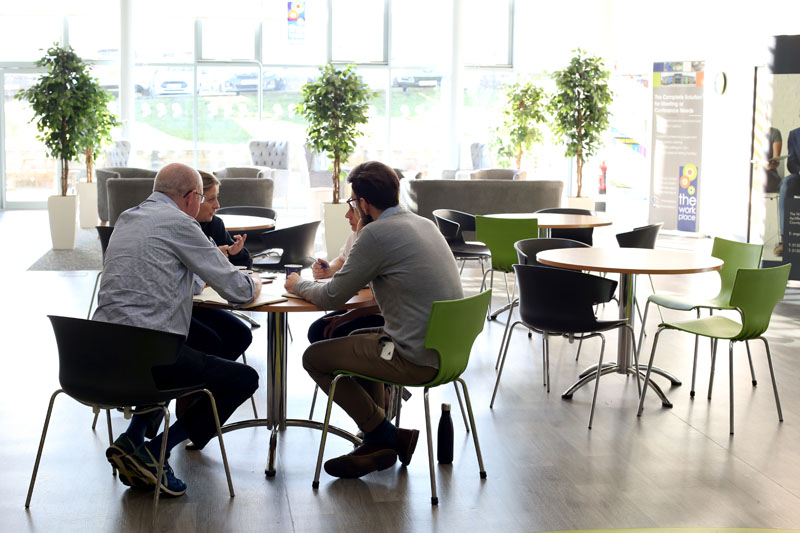 Incorporating large conference spaces and several meeting rooms The Work Place has successfully hosted a wide range of events for several years with many clients returning time and again.
It is a stylish and modern venue with airy open breakout social spaces which can host local, regional or national meetings and events in its first class facilities.
Excellent in-house planning will ensure the space you take is tailored to your needs and budget and you can rely on the friendly centre support team to work hard to ensure your event is a success.
There is a lecture theatre for 150, a large learning zone and seven meeting pods ofvarious sizes, as well as break-out areas and free WiFi. It is the perfect place for informal meetings for two, or presentations for 200.
Down the centre of the naturally lit two-floor building is The Street which leads to indoor and outdoor lounge areas.
The pods, lecture theatre and suites are to the left and right – in March populated by hundreds of Year 6 primary school children taking part in the County Durham and Darlington Fire Service's safety programme held there bi-annually.
The double pods are particularly impressive rooms and buzzing with new technology as soon as the doors open and the lights come on, with a 75" touch screen TV, wireless presentation technology, integrated speakers, large whiteboard and naturally lit environment, with chairs and tables which can set according to numbers, and the audience.
There are plans to create a hot-desk area which will be open for daily and hourly use, with free-flow refreshments available.
The Work Place, which can hold up to 120 cars in its parking facilities, also offers superb locally sourced catering for all budgets and a coffee station serving excellent fresh bean-tocup coffee with biscuits.
Located just off the A1 on Heighington Lane on the business park the centre is easy to access.
For more information, contact The Work Place on [email protected], 01325 375900 or at twpa.org.uk.