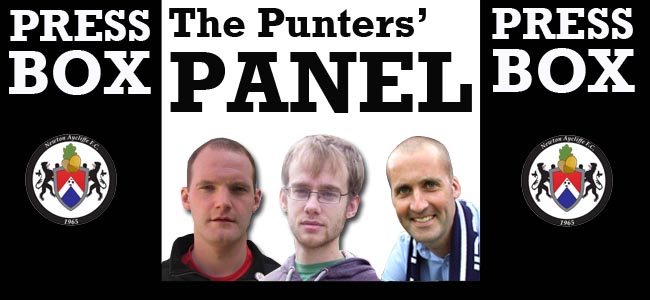 Our panel of three Aycliffe 'experts' give their predictions for this weekend's game…
One point is award for the correct result (win, lose or draw), and three points are awarded for the correct scoreline.
Glen hit the money shot last week by picking 3-1 in the visit to Penrith, to stretch his legs.
New panellist Dan Lewis, NAFC's general manager, takes over from Martin Walker and assumes his current score of 8.
Glen Robertson – 13
Paul McGeary – 10
Dan Lewis – 8
Can Lewis start gaining some ground straight away?
The panel run their eye over the visit of South Shields…
Paul McGeary
Well, well, well. You beat Darlo, win in Penrith and just as the headaches are clearing from the #PartyBus, Penrith give you another reason to reach for the asprin! Just when we thought we were heading in the right direction, Wednesday night pops up and bang, we're looking over our shoulders again. We've not lost two games in succession for over six weeks now and I can't see it happening this week, with the visit of rock bottom South Shields. Darren Craddock will return to stiffen up the backline, Martin Young should be fit again to add some much needed guile to the middle of the park and in Danny Earl, Fred Woodhouse and now Sean Reay, we have plenty of heads to hang our hats on up top. Three points for Christmas, and last night is forgotten!
Newton Aycliffe 3-0 South Shields
Glen Robertson
My visit to Moore Lane Park on Wednesday night ended in yet another defeat, so I've promptly been banned by the secretary, general manager and treasurer from setting foot in the ground again. So in my absence on Saturday, there's only one outcome. Despite our struggles against the Mariners in the past, I can't see a repeat of last year's defeat. We should've beaten them at Filtrona Park in October. But Newtonians will get their early Christmas present.
Newton Aycliffe 2-1 South Shields
Dan Lewis
Well, the Manager's patience has worn out, and the crowd get the change they have been demanding, with the experienced but underperforming Martin Walker being replaced by the precociously talented but as yet un-proven Dan Lewis!
Allan Oliver's men have been in an excellent run of form, although Wednesday s defeat at home to Penrith certainly dampened enthusiasm, however I'm going for a return to winning ways on Saturday. I reckon former Aycliffe man Paul Robinson will notch on his return (cant wait to hear how he 'megged' Cafu again!) but we will have too much for them at the other end.
Aycliffe 3-1 South Shields