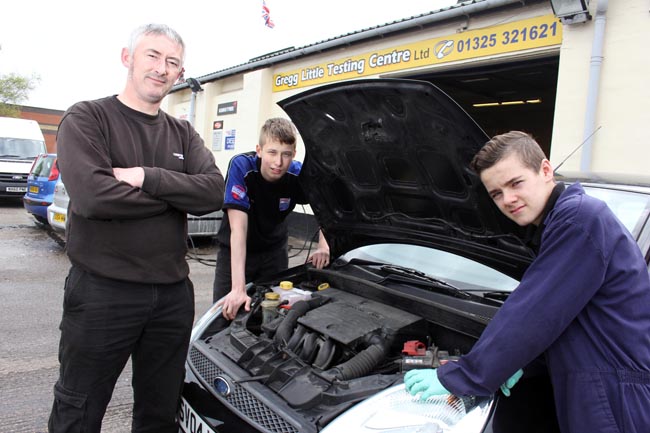 By Martin Walker
Two aspiring car mechanics are getting an early foot on the career ladder thanks to Newton Aycliffe car specialists Gregg Little Testing Centre.
Woodham Academy student Paul Bradshaw, 15, is learning the ropes at Gregg Little one day a week as part of his school's Work Skills Programme, which sees youngsters getting hands-on experience.
The family-run firm has also enlisted local 17-year-old Ben Clemmett on a diploma course through Darlington College, and are now looking to put him through an Apprenticeship.
Far from just ticking an education box for Gregg Little, it's a commitment which shows a real desire to engage with education and encourage local young people into the world of work.
Business development manager Emma Little said: "Ben came to us from DISC, a local charity, looking for work experience and initially he came one day a week.
"He was quite shy and just needed a bit of confidence, and it's been lovely to see him blossom in a working environment.
"He's gone from work experience and a huge success with DISC to doing a diploma through Darlington Borough Council, and now we're looking to take him on as an Apprentice, so it's a really positive success story.
"Now Ben is much more confident. He loves working with cars and bikes and I really gets stuck in.
"He's learning a lot at college and he brings that into the workplace. The lads try to involve what he's learning at college into his work here so he can put it into practice."
Gregg Little has proved the firm can provide a genuine opportunity for local people who have the right attitude to enjoy a job for life.
Brothers Norman Travis and Les Douthwaite, who both started at 16, now manage the garage and are encouraging their young recruits to learn.
Woodham Academy student Paul is now reaping the rewards of their experience by getting real-life work experience.
The Work Skills Programme, piloted this year, was set up to support Woodham's young people in moving successfully into post-16 into Education, Employment or Training, and is funded by the Improving Progression of Young People team.
Gregg Little's partnership with Woodham came about through the Aycliffe Business Park meetings.
Emma explains: "I spoke with Dave Spensley, from Aycliffe Fabrications, and I could see how passionate he is about engaging with education. He set us up with Woodham and we spoke to the careers teacher, Sarah McGinnety.
"We interviewed Paul and visited him in school a couple of times and it's gone from there, and it's been really nice to put something back into the community.
"Paul's a really hard worker, he loves coming here and I'm told his school grades have improved since he joined us and he's with us for another 18 months so he can only get even better.
"It has to work for both parties, of course, but it certainly isn't a burden. Both Ben and Paul are valuable parts of the team now."
Woodham's Ms McGinnety added: "The programme has had a significant impact on Paul's academic attainment, enabling him to see how the core subjects are used in the work place and make links between employer expectations and those of the school.
"Paul clearly enjoys his placement and regularly brings back positive reports. His self-confidence has gone through the roof as his mentor has allows him to take responsibility for aspects of his training.
"I am thrilled that the project is having such a positive influence on those students participating this year."
Paul is clearly enjoying his weekly placement. He said: "I picked working in a garage because I like working with cars, and I'm really enjoying it. They're all nice people and make me feel part of the team."
Ben, meanwhile, has already planned his future career. "I want to become an MOT tester eventually," he grinned.
"I'm really enjoying it. I'm learning to much at college and then bringing it into work, and it's great.
"I get on really well with everyone, they help me loads. This is what I want to do, to become a mechanic, and it just feels right."
• Pictured (above) is Gregg Little Testing Centre's workshop manager Norman Travis with young recruits Ben Clemmett (centre) and Paul Bradshaw (right).