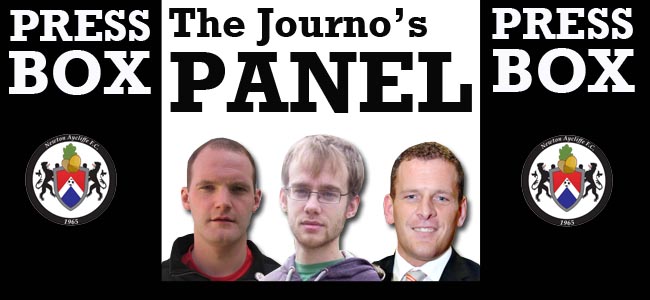 Our panel of three football writers give their predictions on Newton Aycliffe's game this weekend…
Three points are awarded if our 'experts' pick the exact score, 1 point awarded if they get the result correct.
Martin's loyalty betrayed him last week, predicting a draw, as the prophets of doom Paul and Glen correctly tipped defeats for the Newtonians, gaining a point each.
Glen Robertson – 6
Paul McGeary – 5
Martin Walker – 4
Looking to improve their fortunes this week, the panel run their eye over the Vase encounter with Esh Winning.
Glen Robertson
I am still yet to see a win this season, as I can only make midweek games. Thankfully this is a weekend one, so the bad-luck charm won't be there. I have seen signs of how good we can be lately. Against South Shields we attacked brilliantly. Against Consett we defended well, even without Darren Craddock, until Michael Mackay – probably the best goalscorer at this level – popped up with two goals late on. Combine the two and we can be a force. The bookies have us as underdogs for this game (yes, you can actually bet on this one at the bookies) but I think we will have at least one more round in our Vase run.
Newton Aycliffe 2-1 Esh Winning
Paul McGeary
The signs have been better over the past seven days but despite our desire, spirit and efforts, no points from two games, just one goals and five against. Saturday brings a welcome distraction from league play, and serves up lower division opposition in Esh Winning. There are four ex-Newtonians in the Esh ranks, all with a point to prove back at MLP, while Ian Ward played himself into form with four goals at Crook last night. I really, really want to say we'll win this but I think we may need two or three goals to do so and I can't see us getting them. Hopefully I'm proven wrong, but for now I'll settle with overtaking Glen! Come on Aycliffe!
Newton Aycliffe 1-2 Esh Winning
Martin Walker
Vase Master Allan Oliver to conjure up some cup magic with a win. Trust in the Force.
Newton Aycliffe 3-1 Esh Winning