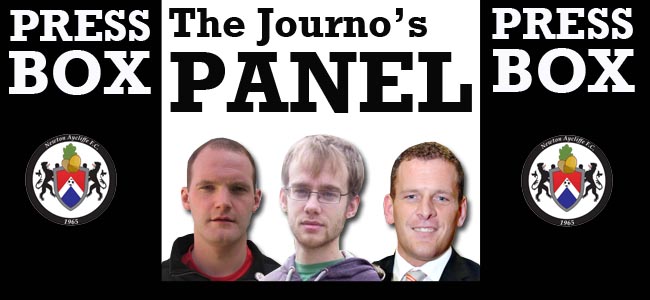 Our panel of three football writers give their predictions on Newton Aycliffe's game this weekend…
Three points are awarded if our 'experts' pick the exact score, 1 point awarded if they get the result correct.
Glen maintained his lead last week, as all three experts bottomed out predicting victory as we crashed to Benfield.
Glen Robertson – 5
Paul McGeary – 4
Martin Walker – 3
Looking to improve their fortunes this week, the panel run their eye over the bottom of the table clash with Billingham Town.
Glen Robertson
Yes it's early, but this could already be a season-defining game for Allan Oliver's boys. A win and they'll be off the bottom and can look to climb up the table, anything less and it could be a long, hard struggle for the rest of the season. But having heard Darren Craddock's interview with Martin Walker, talked to Martin Young and Sean Tarling for the programme, and read Kris Hughes' interview that will be in Saturday's edition, I know the lads won't be giving any less than 100 per cent on Saturday. They're hurting as much as we fans are and I'm sure they will put it right. Billingham Town are struggling as well and we simply have to beat them.
Newton Aycliffe 3-1 Billingham Town
Paul McGeary
Lat year Town were one of four teams we done the double over, including a 5-0 drubbing at their place. They have the impressive Jamie Owens and Nicky Martin in attack, while the experience of the Dunwell brothers would aid any dressing room. Only last month they pushed league leaders Darlington all the way, in a 3-2 reverse at Heritage Park, so they can't be taken lightly. Our luck has to change, and we'll take these chances which are coming our way and I think Saturday is the day.
Newton Aycliffe 2-0 Billingham Town
Martin Walker
We've got to win this one, haven't we? Alas, how many times have we said that already this season? Billingham Town, the second worst team in the division, come to us on Saturday and the pressure is on to win. Hammered by Spennymoor 3-0 during the week, Town won their first game of the season last Saturday – 4-2 at home to surprise-package Guisborough Town – and as much as I know some of our players will have their hearts on their sleeves, as usual, it won't be enough as the miserable run continues.
Newton Aycliffe 1-2 Billingham Town