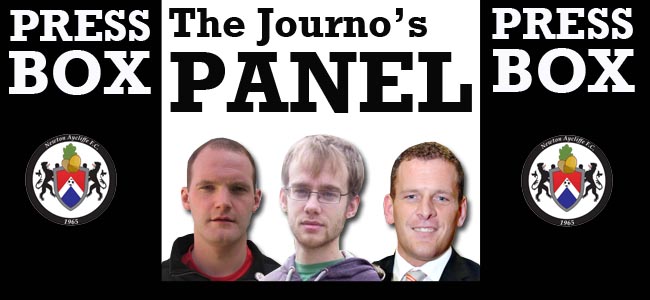 Our panel of three football writers give their predictions on Newton Aycliffe's game this weekend…
Three points are awarded if our 'experts' pick the exact score, 1 point awarded if they get the result correct.
Paul levelled with Glen by picking last week's victory, but missed the winning scoreline.
Glen Robertson – 10
Paul McGeary – 10
Martin Walker – 8
Looking to improve their fortunes this week, the panel run their eye over the trip to Penrith.
Glen Robertson
After arguably the greatest result in the club's history, a trip to Penrith might seem like a bit of a comedown on paper. How wrong that assumption would be. This game is more important than the Darlington one and has been highlighted on the calendar for the fans, players and committee members since the fixtures were released. Everyone loves a trip across to Cumbria, and the bars of Penrith will profit from it. On the field, it's a vital, must-win game. The next three fixtures give the Royal Blues a superb chance of pulling away from the drop zone. With Fred Woodhouse returning to an already winning team, I have every faith of that happening, starting with three points at Penrith.
Penrith 1-3 Newton Aycliffe
Paul McGeary
If last week was our 'Cup Final' then this week must be our World Club Championship! Beating Darlington was great, especially after the way we fought to get the game on in the 48 hours leading up to kick off. The club's record league crowd ensured a healthy pay-day but once Saturday night was out of the way with, and Sunday's hangovers cleared, we quickly moved our attentions to this game. Make no mistake, THIS is our biggest game of the season to date. There's no use in beating the Quakers if we all think Penrith is the by-product of a Jolly Boy's Outing. The lads are focussed, Freddie's back, Peck and Close are fitter, Mellanby is a week nearer. And the beers will be all the sweeter as the #PartyBus bounces home!
Penrith 0-3 Newton Aycliffe
Martin Walker
Well, what a week! Result of the season last Saturday – nay, result of our history – so I suppose you could say it was our Cup Final. But, as Paul says, two bigger games now loom, and we can't afford to go to places like Penrith and lose, can we? Last week's result was, for me, almost as big as winning the second division title 18 months ago, in many ways, and I was hugely proud of Allan, Gary and the lads for pulling off the sweetest one-game achievement in my five years with Newton Aycliffe. Onwards and upwards, as they say. Anyway, weather permitting, we'll win tomorrow.
Penrith 1-2 Newton Aycliffe