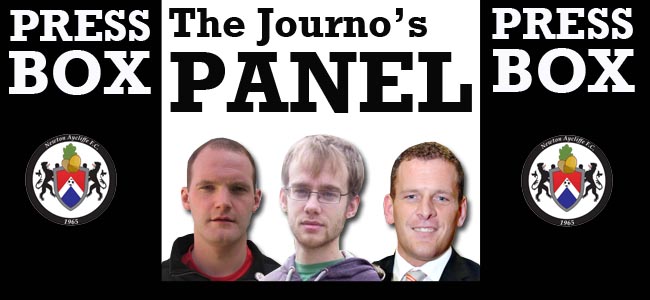 Our panel of three football writers give their predictions on Newton Aycliffe's game this weekend…
Three points are awarded if our 'experts' pick the exact score, 1 point awarded if they get the result correct.
Paul put points before pals last week, and came up trumps with a perfect match as Glen and Martin's faith let them down.
Paul McGeary – 8
Glen Robertson – 6
Martin Walker – 4
Looking to catch the Tipster, Glen and Martin offer these predictions, while Paul knows exactly what's coming up.
Glen Robertson
If being knocked out of the FA Vase wasn't bad enough, I've had to deal with being knocked off top spot by 'statto'. I'll regain my status as Aycliffe's top-tipster by the end of the year, no doubt about that. And so we welcome Billingham Synthonia to Moore Lane Park. The Synners have had a very strong start to the campaign and sit up in fourth position. They also have the experience of winning at MLP, after recording a 7-2 thrashing in the FA Cup last year. Luckily the man that scored a hat-trick that day, Danny Earl, will be lining-up for Aycliffe. It'd be nice to get another hat-trick from him on Saturday, but I don't think there will be that many goals. It's another tough game and I reckon we're in for a good Aycliffe performance, but reckon the lads will be attending their 'Big Night In' on the back of a hard-earned point.
Newton Aycliffe 1-1 Billingham Synthonia
Paul McGeary
A week off to lick our wounds and a couple of training sessions whereas Synners had a cold midweek derby to contend with. Their stock rose last week winning at West Auckland, but lets not be fooled…it was against a side who finished with eight men. No skipper or 'keeper this week, which will be a blessing as one can't score and the other can't stop throwing the ball in his net so we're gonna win, of that I'm sure. Tarls and Scotty will just have to savour it from the bar, before our Big Night In! An unhappy return for Nathan as Danny Earl goes goal crazy against his former team.
Newton Aycliffe 3-1 Synners
Martin Walker
With a 'kids go free' initiative for this game, with 2,500 free tickets going out to Under-12s in the town, Saturday will tell us a lot about whether this town wants a decent football club. The players will, I'm sure, be looking forward to an all-too-rare rare night out, in, so with a decent gate and a few slurps in the offing, the banter will be flowing and the confidence will hopefully follow. A draw will be a cracking result, in my opinion.
Newton Aycliffe 1-1 Synners