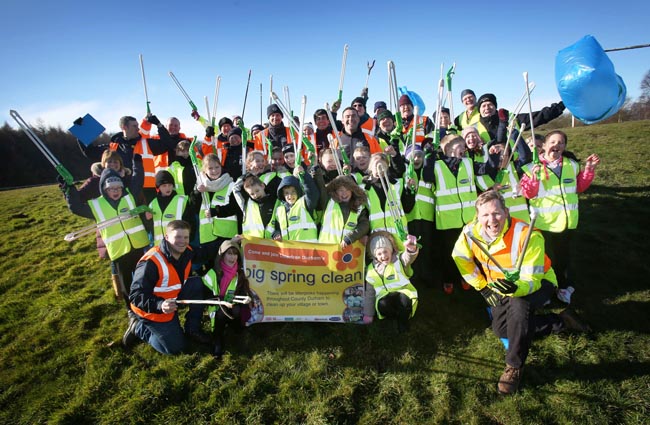 Residents, community groups and schools are being encouraged to get involved in the Big Spring Clean campaign as it returns to County Durham for the fifth time.
The clean-up, which is being run by LitterFree Durham, Durham County Council's Civic Pride team, and Darlington Borough Council, got underway on Saturday (28th February) and continues until Saturday 18th April.
The County Durham campaign was officially launched on Monday in Stanley where 44 volunteers helped to collect 70 bags of rubbish from a stretch of the C2C cycle track.
After its roaring success last year which saw 1,700 volunteers spend 3,000 hours collecting 1,200 bags of rubbish, the initiative is back to urge more volunteers to sign up to clear areas of strewn rubbish.
In addition to this achievement, 10 tonnes of other rubbish were collected, including three tonnes from the rivers Skerne and Wear.
Gerald Lee, chairman of LitterFree Durham, said: "Each year more and more volunteers across Durham and Darlington take part in the Big Spring Clean campaign.
"Equipment and support is provided to anyone wishing to take part and we will arrange for all bagged rubbish to be collected afterwards. We could not achieve the level of success without the support of groups, schools, partners and local residents and we thank everyone for their continued support."
Cllr Brian Stephens, Cabinet member for neighbourhoods and local partnerships at Durham County Council, said: "We are delighted to support this excellent campaign, which is now in its fifth year. It's a great way for communities to come together and do something rewarding for their town, village, school or street.
"Litter picking and rubbish removal makes a huge difference to the environment and helps us achieve our aim of making County Durham a safer, cleaner and greener place for all."
For more information visit www.durham.gov.uk/bigspringclean or www.litterfreedurham.org.
To sign up and take part in the Big Spring Clean campaign email [email protected] or call 03000 261000.