Newton Aycliffe's only surviving coach hire firm are looking to the future after investing £100,000 in their fleet of vehicles.
J&C Coaches, who are due to celebrate their 45th anniversary in 2020, are committed to maintaining a modern range of coaches which stand up to the demands of a highly-regulated modern transport industry.
The family-run firm, headed up by well known Aycliffe resident Nev Jones and his sister Debbie, employ 12 people and operate 15 coaches from their Groat Drive depot on Aycliffe Business Park.
And Nev says their latest investment is testament to their commitment to Aycliffe – and ensuring his father's legacy lives on.
His Dad, John Jones, first formed the business in 1975 with a mini coach.
"This company absolutely is his and my Mam's legacy," insists Nev.
"He just loved it, he was so passionate about coaches. We used to go off on unplanned trips just to look at coaches for sale. Sometimes we'd come back with one and my Mam would hit the roof!"
John, also a well-known local Rotarian and charity fundraiser, was a shoe repairer by trade – "a load of old Cobblers" jokes Nev – and held a number of jobs to support his young family in 1970s Newton Aycliffe.
"Nobody worked as hard for their kids as my Mam 'n Dad did," Nev says proudly.
After redundancy from the fire service, John and his friend Cliff (hence the name J&C) started running J&C Mini Buses from the old Boys' Club car park, where the Magistrates' Court is now.
John then bought out his friend and after buying his first "big" coach, a 29-seater, he changed the name to J&C Coaches in 1980.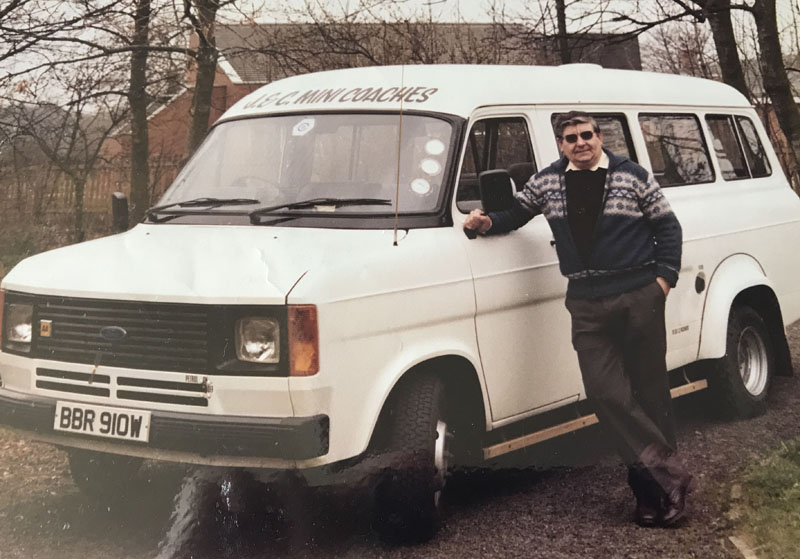 Running from Syd Wood's old coalyard, where the former Bargain Buys store is today, John then bought J&C's current premises on Groat Drive, near to Fracks Transport and Beaumont Grounds Maintenance, behind Gestamp Tallent.
John and his wife, Freda, then successfully tendered for a Durham County Special school contract which led to further investment.
Nev started working for the family firm after leaving school and, the day after his 21st birthday in 1986, he had his first trip abroad, driving a coach-load of people from Aycliffe Hospital to Spain.
J&C soon started investing in modern coaches and by 1996 they'd expanded to Darlington, opening up a transport and holiday shop, which lasted four years before they decided to re-focus on their bread-and-butter.
Today, J&C operates 15 vehicles, from 12 seats up to a 70-seater coach, and has recently spent £100,000 on new 16 and 33-seaters.
"You've got to keep on top of the job and keep re-investing into the company," says Nev.
"We're not in the preservation business, we have to run modern-day coaches, and that costs a lot of money.
"We're in a highly-competitive marketplace, but we're striving to keep up with the needs of a modern transport company, particularly with regards to new compliance laws and emission zones."
John sadly passed away in 2014. But these days J&C still enjoys a strong customer base – 12 of their coaches are out on daily school contract runs and the firm also does well from school trips – while they also offer private hire services for trips all over the UK and Europe.
Nev smiles: "We've seen a lot of changes over the years, but my old man will be pleased to see we're still around and going strong."
For coach bookings, call J&C Coaches on 01325 312705 or go to jandccoachesltd.co.uk