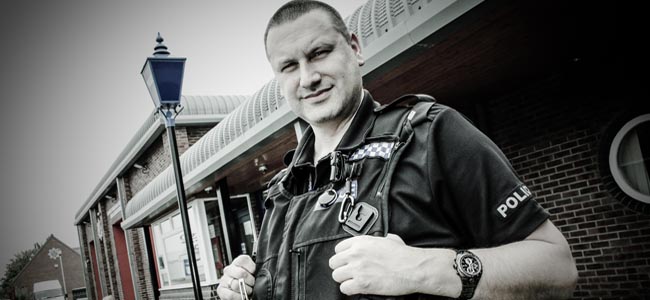 Aycliffe Neighbourhood Police Team Sergeant Mark Edwards continues his regular blog on Aycliffe Today…
Hello all.
As we sail into November I can't believe how fast this year has gone by. There's been so much change on the Neighbourhood Team during 2014 with more, I suspect, to come. Gone is (former) Pc Tracy Henderson who left to pursue other life challenges, Mike Welch – a former PCSO, returned to us as a Police Constable. PCSO Nicola Shaw came to us briefly onto West Ward before heading off for pastures new.
With Police recruitment having started up again several of the existing PCSO's on the team have submitted applications for the role of Police Constable and hopefully will be successful – if that's the case then that opens up new vacancies on the team. We are also waiting to welcome a new Pc to the team who has submitted a transfer request from his current place of work to the Newton Aycliffe area – once he arrives it is intended that Woodham will be his designated beat area. More news on that one soon I hope.
That's the thing with Policing – change. It's an inevitable thing.
Local Policing returned to the Town Centre almost a year ago when we 'moved in' with the Fire Service. Hopefully this has made a difference for local residents as I am fully aware that one of the grievances with our last 'home' was the distance from the Town centre for people to travel to. We have certainly seen a more noticeable footfall through our front door.
The Team made a couple of significant arrest recently when we apprehended two local males – one 16, the other 18, who we suspected to have been engaged in auto-crime. Whilst conducting enquiries we recovered property from an address associated with one of the males – namely a laptop and carry case and associated documentation. This linked in with a crime that had been reported from Priestman Road in the town between Tuesday 28th and Wednesday 29th October 2014 where property had been stolen from within a car that had been left (sadly) unlocked. Our enquiries led us to the two males at an address in Darlington's 'patch'. The property was identified as that what had been taken from Priestman Road and one of the males was charged with two counts of theft from vehicles. He is currently on bail to court and is now a Police 'target'.
Whilst this is a good result it again highlights the sad fact that local residents are failing to secure their vehicles and leaving items of value inside. The crime I've just described could have been avoided if some simple security precautions had been taken.
This Saturday (8th November) sees the 'What's GREAT in Newton Aycliffe and Middridge' event at the Youth Centre. This community event is a great opportunity for residents to come along and find out about the work done by local community groups. Members of the Neighbourhood Team will be in attendance showcasing our community safety project for the year ahead with the Fire Service. We will have some crime prevention equipment on display for distribution along with some other general information material. The event runs from 10am till 2pm so why not pop along.
Speak soon!
Mark J Edwards
Aycliffe Neighbourhood Sergeant