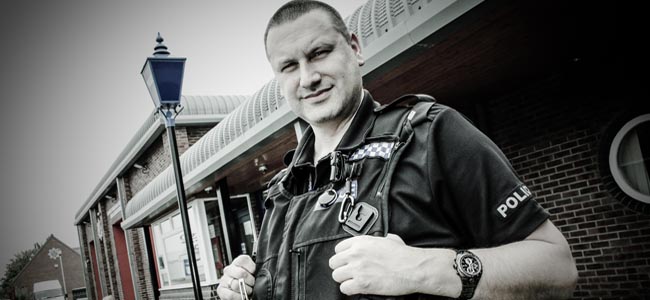 With Newton Aycliffe Neighbourhood Police Team Sergeant Mark Edwards…
Hello all…
There's quite a bit of work ongoing at the moment to increase our reach amongst the areas we police here in Aycliffe.
With the support of Town Centre Manager Bryan Haldane, PC Rogers and PCSO Laycock have been trying to secure a premises that the team can utilise within the Town Centre.
Whilst this will not be a 24/7 drop-in point for the public, it will nevertheless still provide us with a central base of operations that the guys can operate from at the heart of their beat area.
We also have use of an office at Woodham Community Centre which I intend to operate from more regularly now that I have secured myself remote computer access – this will give scope for introducing some drop in sessions at the Centre. More on that to follow.
The NPT are about to launch a joint community safety project with our colleagues in the Fire Service having successfully applying for and being awarded a grant from GAMP (the AAP).
The Police strand to this project will pretty much take the form as the crime prevention initiative that we have operated over the past year (also with GAMP's support).
GAMP will be showcasing a community event at Aycliffe Youth Centre on 8th November between 10am and 2pm where there will be a number of tables highlighting the various work of local groups within the community. The NPT and Fire Service will have one such stall so come along and see what's cooking!
Elsewhere, many Aycliffe Today readers will remember Operation Orient back in December last year a large-scale operation targeting the supply of amphetamine and heroin that resulted in a number of arrests across Newton Aycliffe, Shildon and Bishop Auckland.
The operation itself had employed a number of tactics – amongst them the use of 'undercover' Police Officers and an extensive amount of intelligence reviewing and analytical work that was conducted behind the scenes.
On Friday 26th September, several people were jailed at Teesside Crown Court.
Of those arrested within the Aycliffe Strikes, the following sentences were imposed:-
Liam Dooney – 36 years, of Callerton Rise, received 20 months for supplying and offering to supply heroin.
Clinton Ross – 32 years, of Silverdale Place, received 18 months for supplying controlled drugs namely heroin.
Nicki Ross – 27 years, of Yarm Road, Darlington (formerly an Aycliffe resident) was imprisoned for 16 months for supplying diazepam (a Class C Controlled Drug) and for offering to supply heroin.
Teresa Dinsley – 26 years, of Langdale Place, was convicted of supplying and offering to supply amphetamine and sentenced to 18 weeks imprisonment suspended for 18 months.
Perhaps the most frustrating thing for communities is when they report drug related activity (usage/dealing/supply etc) to the Police and then see no activity.
All I can say to assure people that their calls are taken seriously is that around 90% of subsequent activity arising from such calls takes place behind the scenes. We employ a wide range of tactics as referred to above which, for obvious reasons, we cannot shout about!
The very nature of drug supply requires a lot of work to be put into the response to it if we are to achieve any notable success, as hopefully Operation Orient has demonstrated.
Every report is assessed for its intelligence value and fed into Police systems which leads to strategies getting devised.
The execution of warrants in many cases is the final piece of the puzzle. I cannot undersell the amount of commitment, determination and tenacity that went into 'Orient' and that attitude is reflected across the Durham Constabulary Force area amongst all teams.
Drugs supply does impact upon communities and the desire to drive it out of those communities is very much a priority for us – after all, we may be Police Officers but we all live in areas that can quite easily become affected by this plague.
Don't forget that many members of the NPT are active on Twitter – there's my very own feed @Aycliffe_FiveO (not quite as glamorous as the Hawaii bunch!), @TheNoblePCSO (Chris Noble's), @PCSO_SCOTT (Richie Scott's), @PCSOHutchinson (Michael Hutchinson), and the overall team feed @AycliffeNPT. The Aycliffe NPT takeover of Twitter continues…
And on that note, see you next time.
Mark J Edwards
Aycliffe NPT Sergeant