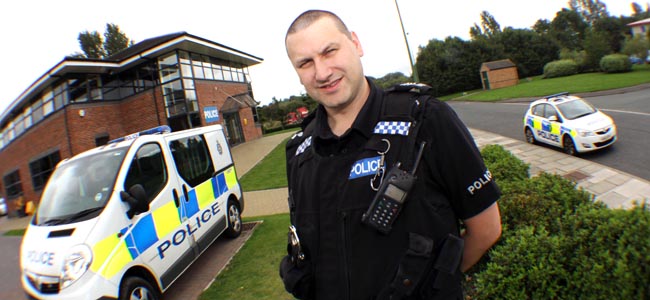 Aycliffe Neighbourhood Police Team Sergeant Mark Edwards continues his regular blog on Aycliffe Today…
Hello all,
Over the past year the team have rolled out a community safety project involving the distribution of crime prevention items and equipment to those vulnerable areas of the community – this was a scheme that was funded by the Great Aycliffe and Middridge Partnership (GAMP).
We have held drop in sessions at various locations across the town, responded to reported crimes by revisiting affected areas and supplying items, taking equipment along to PACT forums, and so forth.
This has been a runaway success and allowed the local Police to take an active part in crime prevention.
We would like to continue in the same vein for the year ahead and are looking to roll out a similar initiative, although this time we wish to work in partnership with our colleagues in the Fire Service.
We are still in the early stages of what format this will take but further details will be rolled out in due course.
Within the Neighbourhood Team itself we are to lose PCSO Nicola Shaw during the early days of May as Nicola was successful in applying for a new role within the organisation. The team would like to wish her every success for the future.
There has been some changes to the PACT process within Woodham Ward as a result of community consultation.
Formerly held every month, from this point onwards there will be a PACT meeting bi-monthly. If you are a resident of Woodham then you can access details pertaining to dates/locations etc by checking out the Force Website www.durham.police.uk or by contacting the Neighbourhood Team via 101.
Your dedicated beat officers for Woodham are PC Tracy Henderson and PCSO Amy Jorgeson and would be happy to answer any queries you may have or discuss any issues within the area you may have.
Over recent weeks we have seen a concerning rise in the reports of house burglaries – areas 'hit' have been Stephenson Way, Carileph Close, and Wallas Road.
On virtually each occasion the suspects have gained entry into properties through closed but unlocked doors! Bearing in mind my earlier comments around crime prevention there is a key lesson to be learnt here.
The Neighbourhood Team have been working closely alongside Aycliffe's Serious Crime Team investigating these crimes and a number of arrests have been made over recent weeks.
A 15-year-old male was arrested over the weekend and has been charged with burglary.
Let's see what court results I can pull out of my hat…
Julie Turvey, 52, from Aycliffe, appeared at the town's Magistrates Court on 9th April charged with drink driving. She was committed to prison for 15 weeks, suspended for 12 months. She was also disqualified from holding or obtaining a driving licence for three years.
That's all for now folks,
Until next time…
Mark J Edwards
Aycliffe Neighbourhood Team Sergeant