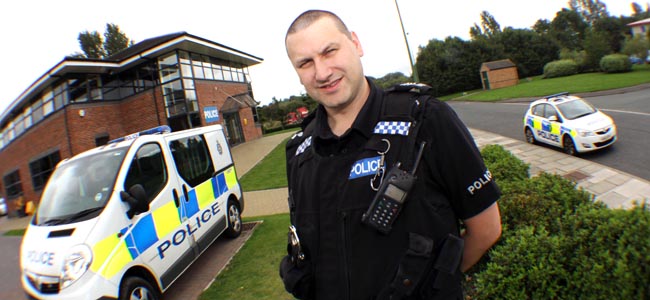 Aycliffe Neighbourhood Police Team Sergeant Mark Edwards returns after a short break with his blog…
It's been a while since my last blog, I feel as if I should say something to do with time flying and all that.
Anyhow here we are, sailing well into March… it only seems like yesterday that it was the dawn of 2014.
You may have seen items on our social media sites regarding bike security and sensed our frustration at taking report after report of bikes stolen whilst left unattended.
Despite the roll-out of 'Operation Spoke' and associated activities and events we still receive calls from residents who have discovered their prized possessions taken overnight (I would like to stress that bike theft is a widespread issue and not specific to the Newton Aycliffe area).
The Aycliffe Neighbourhood Team (or A.N.T as I like to refer to us these days!) got a lucky break recently whilst pursuing enquiries into the theft of an off – road bike stolen from a shed in the Kirkstone Place area a couple of weeks ago.
Using good old-fashioned Policework and community engagement, the team built up a picture of who may be responsible for our spate of bike thefts which was corroborated following the recovery of the said bike.
This lead to the arrests of a number of male youths last week during a joint venture between my team and Officers from the Bishop Auckland based Priority Crime Team.
One of the males arrested – a 15-year-old youngster – was subsequently charged with three burglaries from which bikes had been taken.
This was a positive result and demonstrates the determination of your local Officers.
Those individuals identified from our investigation have now reached the status of 'targets' who can expect a lot of attention.
In the meantime we will continue to run bike marking activities as part of Operation Spoke – these events will be advertised in the usual manner.
For those of you who have read the new Aycliffe Today Monthly you may have seen my column, 'Mark My Words', my commentary on particular themes and issues (hopefully providing a slightly different take on Policing to this blog).
I would like to take this opportunity to thank Martin Walker and all at Mantis Media for their support to both me and my team, and for affording me the opportunity to show the 'human' side of the force.
To conclude I will furnish the mandatory court results for the more curious-minded…
Lisa Michelle Burnside, of Burnside Road, Darlington appeared at Darlington Magistrates Court on 6th March charged with theft to the value of £149.90 from Tesco, in Aycliffe. She was committed to prison for six weeks which was suspended for 12 months, and ordered to pay £20 compensation.
John Alan Charlton, 21, from Honister Place, Aycliffe, appeared at the town's Magistrates' Court on 5th March charged with damaging the windscreen of a Peugeot car. He was committed to prison for seven weeks and also ordered to pay £256 compensation.