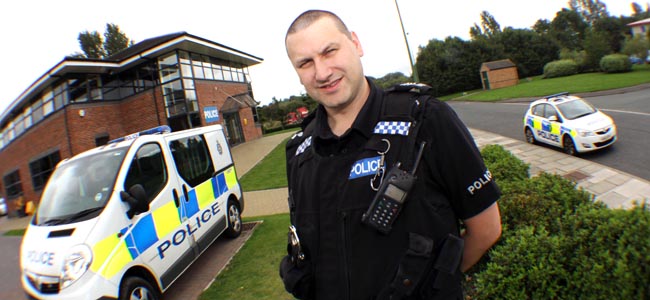 Aycliffe Neighbourhood Police Team Sergeant Mark Edwards continues his regular blog on Aycliffe Today…
Hello again from the Aycliffe Hub!
It's almost two months now since we moved in with our colleagues in the Fire Service and I think it's safe to say we've settled in nicely. It's refreshing to be back in a central location and hopefully our increased visibility reflects that.
Things of note in Aycliffe…
We experienced a recent crime spike over the evening of Monday 20th January into the morning of Tuesday 21st. A number of garages were targeted at the rear of Neville Parade shops and a large amount of items were stolen as a result. Items taken were tools of all types.
The same evening a garage was broken into not away in Hatfield Road. Three mountain bikes were stolen as a result.
Three suspects were identified for these crimes and were arrested. One of these – a 26 year old male has been charged with handling stolen goods after two of the stolen bikes from Hatfield Road were recovered. He will get his day in court very soon.
I would like to talk a little about cycle theft. More and more we are receiving reports from victims of crime who have had their pedal cycles stolen – on a number of occasions these bikes had been left out in rear yards or gardens overnight where opportunist thieves have swooped in and taken their prey.
Time and time again we have tried to stress to people the importance of thinking crime prevention yet these crimes still occur.
On that note I wish to talk about an initiative that is being launched across County Durham and Darlington.
You may have seen or heard about 'Operation Spoke' – a Durham Constabulary-led operation working with other partner agencies to significantly reduce cycle crime by uniquely marking and registering cycles in County Durham and Darlington.
Success of other property marking schemes at reducing the overall levels of acquisitive crime is well documented and now we are expanding this concept to cycles.
The benefits of marking and registering cycles is that they can easily be identified by Police should they ever be stolen or go missing.
Easy identification means that cycles can be quickly reunited with their rightful owners and thieves can be quickly arrested and brought to justice.
Property marking also deters would be thieves in the first place by increasing their chances of being arrested and by making the cycle harder to sell on.
You can have your bicycle marked at one of your local cycle retailers participating in the scheme, or at any other location displaying an Operation Spoke cycle marking poster (such as your local Police Office).
There will also be a number of registration events organised by the NPT.
You have the choice of a bespoke 'BikeRegister' component marking kit for £9.90 or FREE bike marking system.
Both allow quick identification of a bike and its owner and are proven to reduce cycle crime. Durham Constabulary has linked with BikeRegister to provide a bespoke marking kit for your bike at a substantially reduced cost to you.
This kit would normally retail at over £20 but is available via Operation Spoke at cost for £9.90 with all money going back into tackling cycle crime.
The 'BikeRegister' component kit includes 4 Permanent Stencil Etching marks (which are only visible in UV light); unique microdots (for marking components and equipment on your bike); a QR Code label and a tamper resistant 'BikeRegister' warning label. This marking system is almost impossible to remove from the bike without causing damage or leaving a trace.
There is also a free marking kit that involves marking your cycle and components with a unique number via a permanent UV Pen (which is only visible in UV light).
You will also be provided a tamper resistant 'Immobilise' warning label. Your cycle will be registered with Immobilise. This product is recommended for lower value cycles.
Your bike will be given a unique identification number that will link your personal details and cycle details with the national property register database Immobilise (www.immobilise.com).
This means that should your cycle leave the local area it can be quickly identified by officers from other police forces.
It will also give you the opportunity to register other valuable items such as computers, mobile phones etc using the free IMMOBILISE service.
PCSO Richard Scott is the NPT lead on Operation Spoke and should you wish to obtain any further information on this subject please feel free to contact him – he will be happy to help.
Alternately please keep an eye open for details of bike marking events coming to the Newton Aycliffe area.
And now to close, a quick court result.
Malcolm Paterson, 51, from Aycliffe, appeared at Aycliffe Magistrates Court on 30th January and was convicted of drink driving. He was committed to prison for eight weeks which was suspended for 12 months. He was also disqualified from driving or holding a licence for 36 months which will be reduced to nine months subject to him undertaken an approved driving course.
Speak soon.
Mark J Edwards
Aycliffe NPT Sergeant