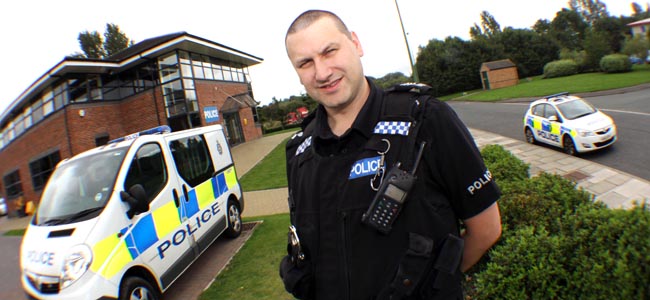 Newton Aycliffe NPT Sergeant Mark Edwards returns with his first blog of 2014…
Well I'll start with the obvious one – Happy New Year!
It's been all change for the Police in Newton Aycliffe of late. I am sure you will all be aware now that we have again relocated – our former home on the Business Park at Parsons Court has closed and we are working from a new base of operations at the Fire Station on Central Avenue.
This was a welcome change for many as we are now back in the centre of things a stone's throw from the town centre.
Just to put you in the picture as to who works from our new site – old favourites the Neighbourhood Police Team are here (of course!), our colleagues from the 24/7 Response Shifts, and the plain clothed detectives within the Serious Crime Team. The front counter is open from Monday to Friday between 10am and 5pm however Policing is provided around the clock as was before at Parsons Court.
We are continuing to review the PACT process which is the ideal forum for members of the community to attend in order to find out what's been going on in their neighbourhood and to raise any issues there may be of concern.
We want to continue to maximise these opportunities for community engagement. Details of these forums can be found at the Durham constabulary website www.durham.police.uk or via our team Twitter feeds @AycliffeNPT or @Aycliffe_FiveO
We have secured ourselves the use of a unit within the Town centre itself to increase our visibility and the NPT have begun operating from there.
I would like to express my thanks to Bryan Haldane and the Town centre Management for allowing us this opportunity.
All I would request is that members of the public continue to report matters at the main station across the road as the purpose of the unit is to allow Officers to respond to incidents within the town centre more expeditiously rather than becoming tied down with less time critical matters.
Work is underway in securing other facilities across the town to allow the team to operate from a number of locations increasing the time spent in the various beats. We will release details once progress has been made of the finer details.
Some of the NPT were working over the Christmas and New Year period supporting our Response colleagues and it certainly sounds as if it's been a busy one.
I'm glad to report that all survived it and managed to spend some time with their families in the long run.
Stay tuned for my next blog when I will resume with details of court results, ongoing issues and the like.
Enjoy 2014 and, as always…
Be good!
Mark J Edwards
Aycliffe NPT Sergeant