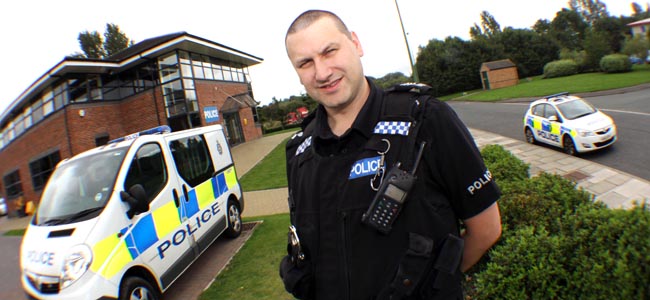 Newton Aycliffe Neighbourhood Police Team Sergeant Mark Edwards continues his regular blog on Aycliffe Today…
As we hurtle towards the festive season, I ask myself "Where has the year gone?".
We've seen lots of changes on the team this year with old regulars like Scott Hodgson heading off to pastures new, former PCSO's leaving and returning as fully warranted Police Constables, new Special Constables such as Liam Callaghan joining our ranks and immersing themselves in the team, and new PCSO's such as Michael Hutchinson and Nicola Shaw arriving on Aycliffe's shores. Inspector Mark Hall and I end the year as we started it – at the helm.
So, what's new to report on the Western front?
Well I'm sure many of you will be aware of our impending relocation from the Business Park to the Fire Station on Central Avenue.
In the interests of partnership working, we will be operating from a new base alongside our colleagues in the County Durham and Darlington Fire and Rescue Service.
Building work is currently underway within the building in the town centre and we anticipate taking up residence there some time in mid-December.
It is anticipated that the 24/7 Response Teams and Aycliffe's Serious Crime Team will be housed there, alongside ourselves in the Neighbourhood Team.
More precise details will be announced as things develop and we near the completion date for the building work.
In other news, I'm sorry to report that Aycliffe has seen a number of burglaries blighting it of late.
Between 2pm and 7.30pm on Saturday 9th November, a house burglary occurred in the Acle Meadows area where offenders have forced open a rear ground floor window and entered within. We are awaiting results from the forensic examination conducted of the scene.
The same afternoon in Sorrel Wynd persons have attempted to gain entry to a house by trying to force open the rear UPVC doors. On this occasion no entry was gained inside the property.
Sometime between Friday 8th and Saturday 9th November, a high-valued pedal cycle was stolen from a greenhouse within a back garden. The bike was a 'Scott' make, with grey 17" frame, 21 speed, cleats on the pedals, and an Areo black canvas bag was beneath the seat.
As always we are appealing to anyone who may have information on these crimes to make contact with ourselves on the NPT, either directly via 101, through private messaging on one of our social media sites, or even anonymously via Crimestoppers.
The team are going to very active in the town centre during the run up to Christmas.
We will be employing a variety of strategies as part of our drive to tackle shoplifting and associated crimes – watch this space for details.
Now let's see what court results I can pull out of our hat:
Scott David Coates, 29, from Aycliffe, appeared at the town's Magistrates Court on 5th November charged with causing criminal damage to a door at an address in Hallington Head. He was made the subject of a community order and a restraining order, ordered to pay a £60 victim surcharge, and required to pay £150 costs to the Crown Prosecution Service (CPS).
Be back soon!
Mark J Edwards
Aycliffe NPT Sergeant