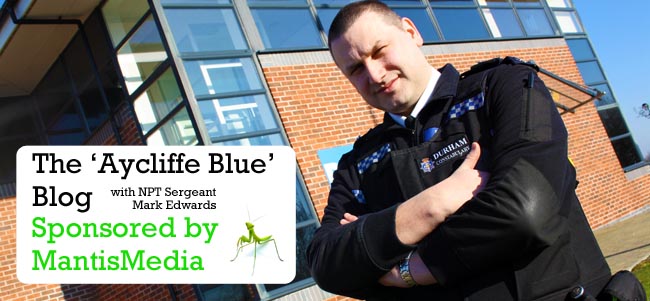 Aycliffe NPT Sergeant Mark Edwards continues his regular blog on Aycliffe Today…
Hello again,
Hope everyone is managing to get by with the extreme cold conditions we are currently experiencing.
These last few days have seen some really bad icy fog conditions making driving conditions treacherous. I'm normally not one for repetition (but there again, maybe I am!?!).
However, I feel it's extremely important to reinforce the message to motorists to check that your vehicles are equipped to handle the weather conditions, allow yourselves plenty of time to complete your journey, make sure windscreens are clear and not frozen over before setting off, and drive to the weather conditions.
I have witnessed some poor examples of driving lately where motorists have been tailgating the vehicle in front oblivious to the dangers.
Our new PC Kathryn Pudney has reached the end of her initial stint with the team and after brief secondments elsewhere in the area will re-join the team at Aycliffe in February 2013 as a fully-fledged member along with PC Grace Holohan who has been introduced to the world of Policing out in the wilds of Shildon.
The team have been running an initiative in the town centre as part of our festive drive to tackle shoplifting – named 'Operation China' we have already had a number of successes.
Two females from out of the area were arrested on Wednesday afternoon in the multi-storey car park after suspicions had been raised by store detectives as to their activities. One of them tried to evade Police by making off in a vehicle that collided with another. One of the females – a 23-year-old from Bishop Auckland, was charged with two counts of theft, careless driving, having no insurance to drive, and for assault on Police. She will get the chance to explain her actions to the Magistrates very soon. The second female was released without charge. As part of Operation China we are employing a variety of measures to achieve our goals; amongst them are high visibility and plain clothed patrols, and the team have been working in liaison with local security from the town centre management and local retail premises. A further female from out of the area has also been arrested today for theft offences and sits in a cell as I write this awaiting questioning.
A 25-year-old male from Aycliffe was charged with aggravated vehicle taking on Saturday after taking a vehicle from the Rufus Green area without permission and crashing it.
It's been a while since I gave any court results, let's see what I can find in Santa's goody bag…
Gary Cameron, 38, from Aycliffe, was convicted at Newton Aycliffe Magistrates Court on 12th December of causing criminal damage to a vehicle in Greathead Crescent. He was conditionally discharged for 12 months, ordered to pay £50 compensation, and required to pay a further 385 costs to the crown prosecution service.
Brian Lee Alan Brunskill, 34, from Aycliffe, was convicted at Aycliffe Magistrates Court on 11th December of causing criminal damage to a No Entry sign. He was conditionally discharged for 6 months, and ordered to pay £50 costs to the CPS.
Craig Richard Blackburn, 32, from Aycliffe, was convicted at Durham Crown Court for offences of burglary committed at ACLET Electronics on Aycliffe Business Park in November 2011. He was given a custodial sentence receiving 11 months imprisonment for these offences.
See you next time,
Be good!
Mark J Edwards
Aycliffe NPT Sergeant