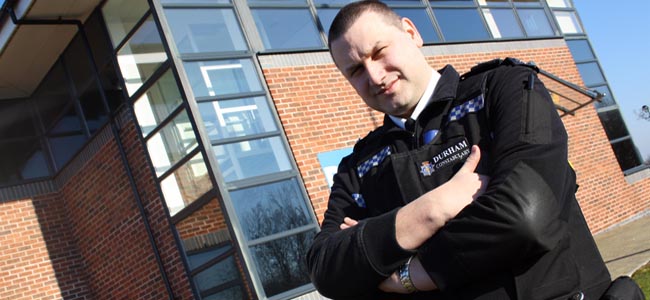 NPT Sergeant Mark Edwards continues his regular blog on Aycliffe Today…
Hello again Newtonians,
I would just like to start this edition by taking the opportunity to reaffirm to readers what the NPT are exactly and what we deal with.
Neighbourhood Policing Teams work within the Communities addressing those issues that cannot be resolved overnight or with one visit from the Police.
If you need help in an emergency and need us then chances are you will meet what we call a Response Cop.
These Officers do a fantastic job under extreme circumstances but unfortunately many problems need more protracted intervention. These may be issues such as neighbourhood disputes, persistent ASB problems, emerging crime trends etc.
And that's where we come in! We work on a daily basis in the community, with the community and our partner agencies tackling those quality of life issues.
Problem Solving is at the core of what we do and – believe it or not, we are actually pretty good at it!! I can almost hear the comments right now but the nature of this game – well we're never going to please everybody!
One significant way in which local residents can involve themselves in what we do – or at least have a say, is to attend local PACT meetings. PACT stands for Police And Communities Together.
Essentially these are meetings that are held – usually once a month, in each ward area where your local Beat Officers (Pc and PCSO) attend with representatives from our partner agencies and provide you with updates on what has been going on in your area from a Police perspective.
Priorities are set with agreement from the community based on what are deemed to be issues impacting upon quality of life and for the next month the Police and our partners (and also on many occasions with members of the community) will work towards addressing them – providing you with updates at the next meeting. I'm sure you will all have some opinion on this process but for those of you haven't attended a PACT meeting before – give it a go before you decide!
Details of when the next PACT meeting will be held and where for your area can be found from a variety of sources.
You can contact the Police on 101 and request the information, you can check out the Durham Constabulary website, check out the 'Newton Aycliffe Neighbourhood Police Team' page on Facebook or follow us on Twitter at @AycliffeNPT or/and @Aycliffe_FiveO.
Which leads me onto… neighbourhood disputes! These can be extremely frustrating for all parties and are examples of those situations where an overnight resolution is next to impossible.
The NPT regularly have to deal with these – the most recent one being a long running situation in the Rowan Place area.
Many don't appreciate our perspective and believe it's as simple as us wading in and 'locking up' the parties they deem responsible.
The only problem with that is ALL parties usually share that viewpoint! We appreciate that these situations must be unbearable at times for those living within the area in question and that people still have to live with each other long after we've rode off into the sunset.
We will try and resolve any disputes amicably and with our partner agencies. Mediation is always a preferred option.
There are occasions when all reasonable efforts fail, parties don't listen to the advice they are given, and that's when things step up a notch or two.
Whilst it may seem that nothing is happening I can assure you that a vast amount of work goes on behind the scenes.
Earlier this week, after a thorough review of one such neighbourhood dispute the team made a couple of arrests in the Rowan Place area of two females suspected of being involved in harassment.
Both were charged and they – a 54-year-old and a 26-year-old – will be appearing at court in November.
I'm conscious that this is turning rather lengthy so will round this off with a few results…
Thomas Gordon Watson, 53, from Heighington was convicted at Newton Aycliffe Magistrates Court for driving without due care and attention. He was fined £500 and required to pay £85 costs. His licence was also endorsed with nine points.
Lisa Jane Winspear, 36, from Newton Aycliffe was found guilty at Newton Aycliffe Magistrates Court of committing fraud by false representation via the internet. She was found guilty and conditionally discharged for 12 months and ordered to pay £454.44 compensation.
Ian Carl Adcock, 46, from Newton Aycliffe was found guilty at Newton Aycliffe Magistrates Court of failing to comply with a dog control order. He was found guilty and fined £250, ordered to pay £160 costs, and was disqualified from owning dogs for two years.
Amin Shahin, 44, from Darlington was found guilty at Newton Aycliffe Magistrates Court of driving a vehicle in Newton Aycliffe without having any valid insurance. He was found guilty and fined £110, ordered to pay £40 costs, and his licence was endorsed with six points.
Until next time, take care and be good!
Mark J Edwards
Aycliffe NPT Sergeant