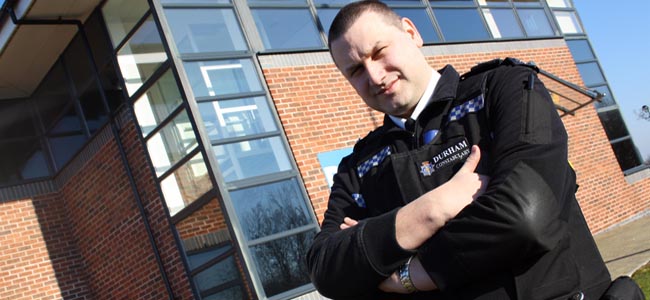 NPT Sergeant Mark Edwards continues his regular blog on Aycliffe Today…
It's time for another dose of 'Aycliffe Blue' I guess – your regular insight into what the Neighbourhood Police Team's doing in the community.
PCSO Ben Cloke, who was one of the beat officers for Aycliffe Village and Neville and Simpasture Ward, went off on secondment to another department as part of a development opportunity earlier this year.
His temporary role has now been made permanent so it's goodbye Aycliffe from him!
Don't fret, however, as PC Alan Thompson and PCSO Richard Scott continue to devote their efforts into tackling those quality of life issues in the Village and Neville and Simpasture.
My Twitter page @Aycliffe_FiveO is slowly building up a following – currently standing at 146. I try and keep this up to date with news stories, arrests and so forth but may omit the odd tweet if I'm struggling with a resistant prisoner or rolling around on the floor!
Also, any periods of absence may be down to my rest day pattern – you won't be hearing me telling you about my out-of-work eating habits…or whenever I choose to have a cuppa!
Some of the more younger followers out there may query the whole 'FiveO' thing?? Ask your folks – I'm sure they'll fill you in.
Scott and Mike on the team continue to keep the Facebook page 'alive' and given the number of likes and followers it's fair to say that a lot of Newtonians are aware by now of its' existence!
Members of the team are working on a variety of diversionary activities as part of our campaign to reduce anti-social behaviour. I will provide updates as these initiatives develop.
Meanwhile, a 27-year-old male from the Bishop Auckland area was recently arrested and interviewed in relation to a series of diesel thefts from across the locality.
He was charged with a number of offences, one of which was committed at a layby off the A689 near Rushyford in our area, and has been bailed to court.
Diesel theft remains a problem and this result is a small – but significant, one in our ongoing fight against crimes of this nature.
It wouldn't be 'Aycliffe Blue' without some court results so stay tuned…and here we go!
Pippa Anne-Marie Geddes, 34, from Coxhoe was convicted at South Durham Magistrates for fraud offences committed at Ramsdens here in the town. As a result she received a nine-month conditional discharge and was ordered to pay £500 compensation to Ramsdens.
Mark Gerald Lockerbie, 39, from Darlington appeared at court charged with theft of a laptop. He was found guilty and conditionally discharged for 12 months as well as having to pay £85 costs.
Robert Lee Lance, 25, from Newton Aycliffe, appeared at the town's Magistrates Court to answer to allegations of handling stolen goods, and fraud. A community order was made requiring the defendant to carry out 60 hours unpaid work under supervision.
I'm sure everyone has their opinions on whether these results are right or not. You decide, I'm just delivering the facts…
Until next time,
Be good!
Mark J Edwards
Aycliffe NPT Sergeant