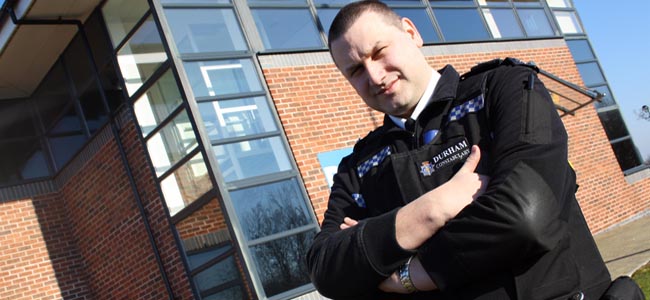 Aycliffe NPT Sergeant Mark Edwards continues his regular blog on Aycliffe Today…
Apologies to all who may have been waiting anxiously for my next blog, it's been some time since my last one (I jest!!).
I've been sunning myself on some much overdue holiday (well, I've been away on my holidays – the sunning aspect was a little…absent!.
On my first day back I actually found myself helping out up at the Stanhope Agricultural Show – it was a great day up in the Dales mingling with the locals – Police and Community alike.
Now I know that there will be some sceptics who wouldn't like the thought of their local Officers been sent up to other areas – I can assure those however that it goes two ways, we get assistance from out of the area at local events in Aycliffe.
Things have been busy across Newton Aycliffe these past few weeks – to cover everything would bring this blog on par with War and Peace. So I'll try and keep this informative but punchy.
We regularly see spates of diesel thefts from HGV's parked up – predominantly overnight, at several locations in the area.
The most hit tend to be the lorry park at School Aycliffe Lane, Newton Park Services at the A1(M) Interchange, and on the A689.
For those who monitor our Facebook page you will have seen this next bit already but a 22 year old male from the Shildon area was arrested recently and charged with a number of offences.
Amongst them, thefts of seven pedal cycles from locations in Aycliffe, Shildon and Bishop Auckland, one house burglary in Shildon, 13 diesel thefts from those HGV locations described above along with other sites in Shildon.
This male was remanded in custody and presented to the courts who have remanded him to Prison to await trial. To describe this as a good result would be an understatement!
There was a spate of crimes committed in the School Aycliffe area last week. I am happy to report that two males were arrested in relation to this spree – a 19-year-old male from Bishop Auckland and a Shildon 20-year-old were charged with committing theft from a large number of motor vehicles and a number of burglaries involving sheds and garages.
I got my own hands mucky this week and pitched in with the team making a variety of arrests.
PC Stasiak and I found ourselves in the Bowburn and Coxhoe areas whilst investigating a fraud at Ramsdens in the town centre. A 34-year-old female was arrested and subsequently charged with committing fraud by false representation. She will be appearing in court later this month.
At the time of writing this three males are currently in custody for stealing a moped from an address overnight in the Shafto Way area of the town. Updates to follow.
As I'm sure you'll know the Neighbourhood Police Team is made up of a sergeant (me), Police Constables (Matt, Alan, Tracy and Paul), and Police Constables (Richie, Scott, Amy, Chris, Gavin and Mike), all under the watchful eye of our Inspector Mark Hall.
Well, it's early days yet but the rumblings from our HQ are that a couple of our recently acquired probationer Constables will be sent to join the NPT at Aycliffe towards the back end of this year. Watch this space!
That's all well and nice I hear you cry, but what about those court results!! Okay, okay… here goes.
Stephen Colin Ord, 50, from Newton Aycliffe pleaded guilty to drugs supply offences at Durham Crown Court on 7th September and was convicted. He was committed to prison for two years and seven months.
Trevor Paul McGee, 47, from Sunniside, was convicted of a common assault at Newton Aycliffe Magistrates Court that occurred in our area. He was found guilty and committed to prison for 12 weeks which was suspended for 18 months. He was ordered to pay £100 compensation and £100 court costs.
Our Team Facebook page goes from strength to strength – thanks go to Mike and Scott who are the main contributors to the maintenance and updates on there.
I have my own Twitter feed up and running now for those who may wish to check me out – @Aycliffe_FiveO.
I like to think of it as different to all the other bog-standard Police related twitter pages you'll see out there, and hey – I'm a fun-loving guy who enjoys a good old-fashioned action adventure flick/TV show when off duty as much as the next person! At the last count I had 103 followers.
Remember that reference to War and Peace…well, that's me signing off.
And as always….Be good!
Mark J Edwards
Aycliffe NPT Sergeant