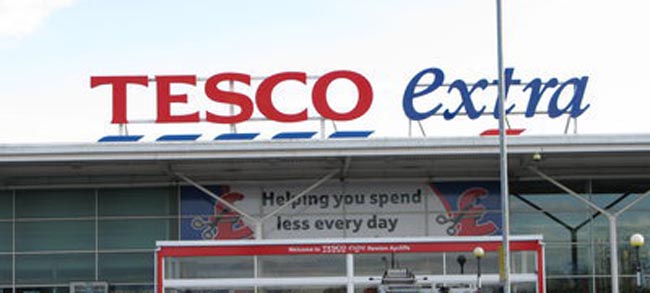 Tesco has suspended four executives, including its UK managing director, after the supermarket overstated its half-year profit guidance by £250m.
It has launched an investigation, while the supermarket chain – which has a store in Newton Aycliffe – says it is now working to establish the impact of the issue on its full-year results.
Shares fell 10% in early trading today, reported the BBC.
"We have uncovered a serious issue and responded accordingly," said Tesco chief executive Dave Lewis.
On a conference call later, Mr Lewis said "a number of people" had been suspended from duty while the investigation was under way.
UK managing director Chris Bush is one of those suspended, according to Radio 5 Live presenter Adam Parsons.
Mr Lewis said Robin Terrell, Tesco's multi-channel director, will be "stepping in and running and leading the UK leadership team", but he refused to confirm that Mr Bush had been suspended.
Mr Lewis, who took the helm at Tesco on 1st September, said the issue was "something completely out of the ordinary" and his priority was to carry out "a full and frank investigation".
"We will take decisive action as the results of the investigation become clear," he added.
Tesco also confirmed that there had been no chief financial officer (CFO) at the group over the past week, after its current CFO Laurie McIlwee left just over a week ago following his resignation in April.
Marks and Spencer's chief financial officer (CFO) Alan Stewart was announced as Mr McIlwee's replacement in July, but is not due to join Tesco until December.
On 29th August, Tesco had said it expected its trading profit for the six months to 23rd August to be about £1.1bn.
In its latest statement, Tesco said the profits overstatement was "principally due to the accelerated recognition of commercial income and delayed accrual of costs".
It also said some of the error – which referred to its expected profits for the six months to 23rd August – was due to the timing of the accounting of payments between suppliers and Tesco.
Mr Lewis said this meant "an element of" expected revenue from its suppliers had been "reported in the wrong time period".
"It's about revenue received versus when the activity took place," he added.
Tesco said "an informed employee" had alerted the board to the issue on Friday, and added it had already informed the UK's financial regulator, the Financial Conduct Authority.
As a result of the problem, Tesco has pushed back the release of its interim results to 23rd October, from 1st October.
Deloitte will carry out its investigation with Freshfields, the group's external legal advisers. Tesco's usual auditors are PricewaterhouseCoopers.
Shares in Tesco reached an 11-year low in August after the firm cut its full-year profit forecast to £2.4bn from £2.8bn.
The supermarket group has been battling falling sales and a decline in its market share as discount chains such as Aldi and Lidl have gained in popularity.
Previous chief executive Philip Clarke stood down in July after his attempts to revive Tesco's fortunes through a £1bn turnaround plan failed.
AvaTrade chief market analyst Naeem Aslam said Tesco had been "extremely slow" to respond to market changes. "Today's news is another disaster for the company," he added.