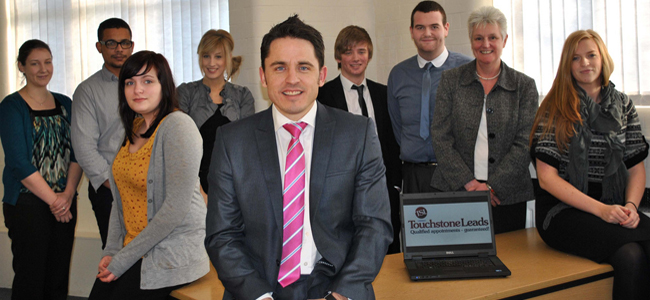 A North East pay-by-results telemarketing firm is celebrating its on-going success after doubling its workforce and increasing its services to keep up with an expanding client base.
Touchstone Leads, based in Shildon, County Durham, has made an excellent start to 2012 by appointing three new business development team members to meet client demand, taking the Company's total number of staff to 10.
Touchstone's success is mainly due to its unique standpoint of only billing clients for leads that meet their criteria – a factor which has proved popular with a number of heavyweight UK businesses.
Another factor in the Company's expansion is the launch of telemarketing workshops aimed at improving people's telephone skills and confidence.
Touchstone managing director Kevin Ireson said: "Running a telemarketing business has inspired me to help businesses learn how to increase their sales – and I thought that providing workshops would be the best way to do this."
He added: "I'm so pleased with the progress that Touchstone has made in gaining clients and growing its workforce, especially in this difficult economic climate. I now have plenty of work for the new business development team to build on."
The new business development team consists of business development manager Ann Boyd, business development support Lauri Hollis and a new team leader, all recruited this month. They were taken on alongside the earlier-appointed telesales executive Daniel Kebede and telesales trainee Imogen Smart.
It is hoped that Touchstone's expansion will help it to reach the £1 million turnover mark this year and continue its national expansion with colleges and businesses throughout the UK.
Some of Touchstone's most recent clients include Bishop Auckland College, Mid-Cheshire College and medical and safety technology firm Draeger Safety UK Ltd.
Bishop Auckland College was particularly pleased at the work undertaken by Touchstone to help improve its engagement with employers.
Rob Richardson, head of Business Development at the College, said: "We decided to give Touchstone Leads the opportunity to see if we could increase the level of employer contact during our quieter period.
"I was pleasantly surprised not only by the number of appointments Touchstone was able to secure for us, but also the quality of the appointments and I am now very optimistic that many of these appointments will turn out to be apprenticeships."
Touchstone Leads will be holding its next telemarketing workshop in Durham on January 25th. For more information on the Company and its services, please visit: www.touchstoneleads.co.uk.
● Pictured is the Touchstone Leads team: Cassandra Hallam, Dan Kebede, Imogen Smart, Louise Swinbank, Kevin Ireson, Joe Carpenter, Mark Heslop, Ann Boyd and Lauri Hollis.