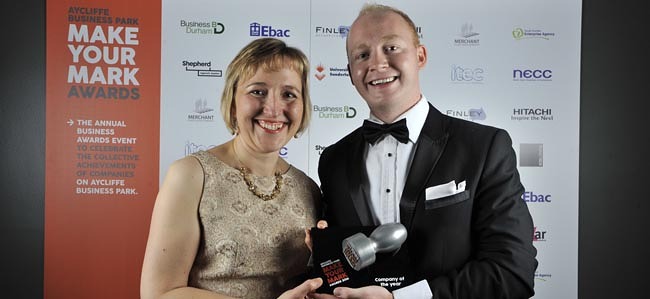 By Martin Walker
Specialist offshore engineering firm Tekmar Energy scooped the Company of the Year award at Aycliffe Business Park's Make Your Mark awards event on Thursday night.
More than 200 people enjoyed the glitzy ceremony at the Xcel Centre, attended by Sedgefield MP Phil Wilson and Business Durham managing director Dr Simon Goon, who addressed guests with an opening speech.
Tekmar, one of the leading cable protection specialists in the North-East, beat off stiff competition from Finley Structures, Ebac and Merchant Place Developments – the company which brought Hitachi to Aycliffe – to grab the top gong.
The firm's CEO James Ritchie, pictured above with Sarah Slaven from Business Durham, said: "We are delighted to be selected for this prestigious award in recognition for our business performance over the last year.
"The company is expanding in multiple areas, we are kitting out our new production facility, we are opening offices around the globe with sales now coming in from the USA and UAE, and we continue to recruit and grow our exceptional team.
"I want to thank everyone in Tekmar who's hard work has cemented our position as the market leading supplier in our respective field.
"Over the next year we look forward to capitalising on our leading position in the subsea market."
Tekmar was recently awarded a multi-million pound project with Statoil and Statkraft on the Dudgeon Offshore Wind Farm for the supply of its patented technology TekLink.
The deal marked the 30th offshore wind project for Tekmar and followed major deals with Cape Wind in the USA and Luchterduinen in the Netherlands.
Tekmar is currently preparing to move in to the 75,000 sq ft former Tetley's Tea factory on Aycliffe Business Park and expect to complete the move by December this year.
Click here to see a gallery of pictures from the evening.
Click here to see the full list of winners and shortlisted nominees.