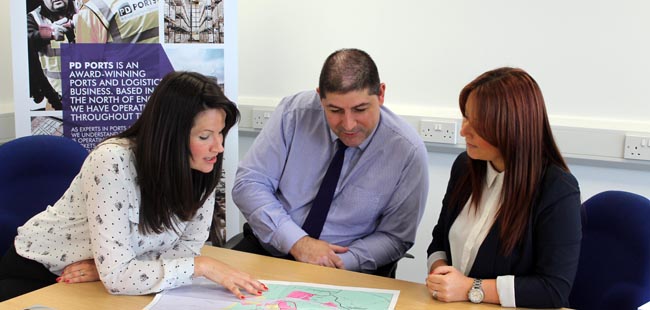 A Teesside-based ports firm which has locations across the UK has expanded to Aycliffe Business Park.
PD Ports has opened a project and commercial office in Newton Aycliffe to complement its Teessport head office.
The company, which offers end-to-end supply chain solutions, operates at many key UK ports and logistics centres – including Hull, Thames, Felixtowe and the Isle of Wight – as well as a growing European presence.
Its new office, at Evans Easyspace on Aycliffe Business Park, which is home to more than 250 businesses, will facilitate easier working with the large number of local businesses which currently use the port infrastructure in Teesport.
It will also allow PD Ports to assist other businesses to discover and benefit from the expertise which has helped companies save money, reduce road miles and CO2 emissions in their supply chain.
PD's Business Development Director Geoff Lippitt said: "We are pleased to have secured a base in Newton Aycliffe as it helps PD Ports to extend its presence in the North-East.
"We hope that this site will enable local companies to enhance their supply chains by utilising our experience and knowledge, which has already enabled other North East companies to deliver significant cost savings."
Any enquires should be directed through the new office on 01325 328870, or through head office in Middlesbrough on 01642 877000.