Team Sky have officially become Team Ineos to reflect their new sponsor, a chemicals firm which owns a huge site in Newton Aycliffe.
Broadcaster Sky said in December it would end its decade-long commitment at the end of 2019, during which time the team Sky have won eight Grand Tours.
"So excited that we as riders and staff will be able to continue on together for 2020 and beyond," said star cyclist Chris Froome (above) on Twitter.
"Looking forward to continued success as Team INEOS! Massive thanks to everyone involved in keeping this special group of people together."
Ineos is owned by Britain's richest man, Sir Jim Ratcliffe, who's worth £21bn and has been in talks with Team Sky principal Sir Dave Brailsford for several weeks.
Ineos will become the sole owners of the team from May 1 and will be officially launched at the Tour de Yorkshire on May 2.
Ratcliffe, chairman and chief executive of Ineos, said: "Cycling is a great endurance and tactical sport that is gaining ever more popularity around the world.
"Equally, cycling continues to mushroom for the general public as it is seen to be good for fitness and health, together with easing congestion and pollution in city environments.
"Ineos is delighted to take on the responsibility of running such a professional team."
Team Sky was launched in January 2010 and has amassed 327 victories since, including the eight Grand Tours.
Current riders Froome and Geraint Thomas have won five Tours de France between them, and Welshman Thomas signed a new three-year deal in September after winning his first Tour last July.
The Ineos site at Aycliffe employs more than 300 people and was acquired from Hyrdo Polymers in 2008.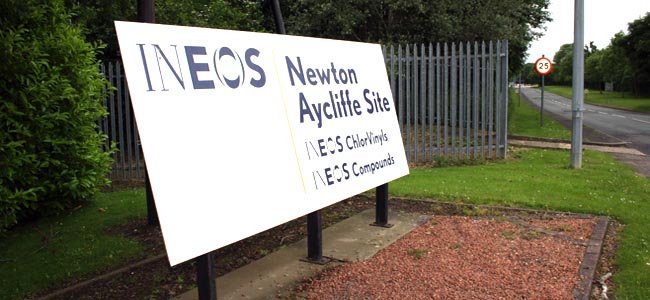 The 160-acre site includes four polymerisation plants, four compounding halls, a power plant, laboratories, offices, warehouses as well as recreational land including a nine-hole golf course and a nature reserve.
A manufacturing site since the 1950s, operations for Inovyn and Ineos Enterprises Compounds Business occupy roughly one third of the site with the rest open.
Inovyn's operations at Aycliffe are modern production plants which produce a range of PVC grades that are delivered by road to all parts of the UK and Ireland, including being the UK's only manufacturer of suspension PVC resin.
It's thought that one in every three UK households will have PVC windows produced using material made at Aycliffe.
The largest single plant for the manufacture of PVC compounds in Europe, Ineos Enterprises Compounds Business at Aycliffe produces dry blend, rigid, flexible and medical grades of PVC compound across 19 production lines for sale across the globe.
Facilities include a product development technology centre along with analytical and application laboratories to allow products to be tailored to meet specific customer requirements.