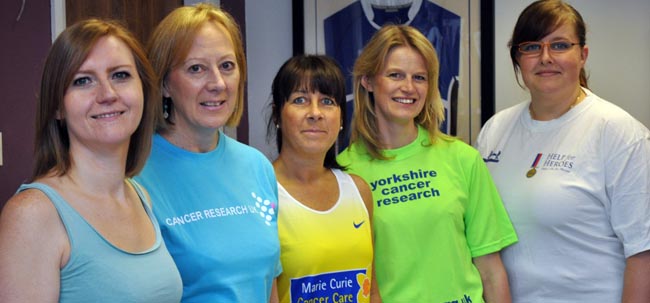 A local team of runners have raised in excess of £2300 for charity by participating in the Great North Run and the Bristol Half Marathon in September.
The runners, from Newton Aycliffe-based shower manufacturer Roman, have raised the funds for a range of different charities including; Help for Heroes, NSPCC, Cancer Research UK, Marie Curie, Yorkshire Cancer Research and Tree of Hope.
Five ladies took part in the Great North Run, which is local to the County Durham based company, whilst one of their Retail Development Managers completed the Bristol Half Marathon – his own local race.
All participants selected their own individual charities to raise money for and the total was achieved through sponsorship and also via bake and book sales around the company's head-office.
The team was made up of a mixture of experienced runners, along with those who were new to the sport – all managed to complete the races.
David Osborne, managing director and head of the Roman Charity Committee, said: "We are very proud to have raised so much money for a range of different charities.
"The team participating in the half marathons were keen to raise as much money as possible, so we were happy to help when they organised their bake and book sales.
"Congratulations to all of team Roman who participated in the events – they all trained exceptionally hard.
"A special well done goes to Ang and Shelley, who both completed the race in the impressive time of sub two hours.
"A big thank you goes out to all those who sponsored and supported the team."
 Pictured above: The Ladies from Team Roman who ran the Great North Run (L-R: Marketing Manager, Shelley; Head of Graphics, Sue; PA to the Director, Kim; Export Manager, Ang & Digital Marketing, Ally)