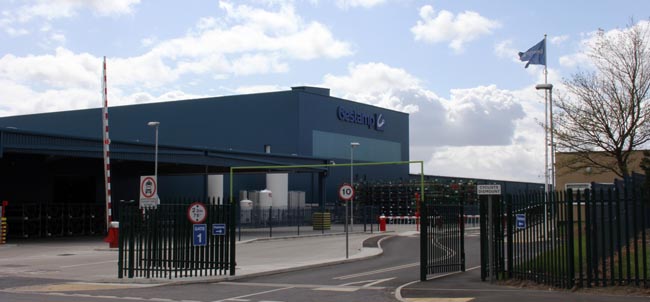 By Martin Walker
Newton Aycliffe engineering heavyweights Gestamp Tallent has expanded again by moving in to the former Sanyo site on Aycliffe Business Park.
The car parts manufacturer – comfortably Aycliffe's biggest employers – has taken a 12-year lease on two new buildings totalling 10 acres to assist in its rapid growth.
Tallent, which currently employs about 1,300 people, last year opened its new £15m assembly line on the business park, amid plans to take on an extra 150 staff and continue to make significant in-roads in the global automotive market.
The firm, which celebrated its 65th anniversary in 2013, has grown its annual turnover from around a £10m in the 1990s to £200m today.
Tallent designs and makes chassis and structural products for motor giants including Nissan, Volvo, Ford, Jaguar, Honda and VW.
Its latest expansion includes the site's two industrial buildings, opposite Tallent's main buildings along St Cuthbert's Way, which provide a total of more than 123,000 sq ft of internal floor space.
Aycliffe Today understands Tallent plan to use the site, which is owned by Arctic Cat Property and asset managed by Roebuck Capital from London, as a training Centre of Excellence for Apprentices.
Chartered surveyors Sanderson Weatherall helped to secure the lease on the 10 acre site.
Jonathan Simpson, Partner at Sanderson Weatherall's Teesside office, said: "Gestamp Tallent has been at the heart of the Aycliffe Business Park for decades and this additional space strengthens that position for years to come, creating jobs and growth in the area.
"The deal also continues the engineering and manufacturing-led drive which we are seeing within the industrial commercial property market here in the North East, and particularly at Aycliffe."
"It is great to see the site occupied once again following its closure back in 2009.
"This is the second time I have let this site in the space of eight years and the letting is a real testament to both Tallent and our client bringing a near derelict site back to life.
"This is the largest letting on Aycliffe since we completed on the 150,000 sq ft letting to Ebac at the back end of last year on the former Radius Systems site."