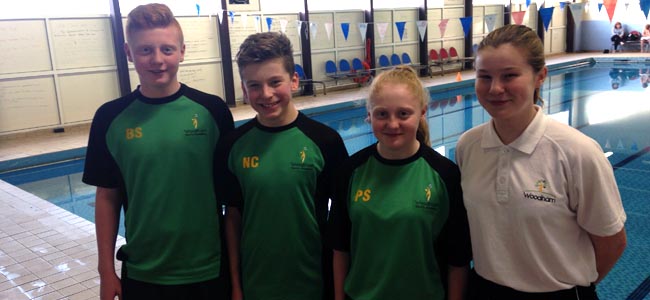 Woodham Academy has always had a strong swimming tradition and has excellent links to Sedgefield 75 and Sedgefield Water Polo Club.
Over the past few weeks Woodham Academy students have had tremendous success both in water polo and swimming. Woodham Academy water polo players are currently enjoying tremendous success in the pool.
Since September they have won a host of tournaments and currently have players competing at District, National and International level.
Ben Stephenson, Year 9, travelled to Andorra in September to represent the North East in an International 5 day tournament and since returning has now become a National Champion taking Gold at the ASA Under 15's National Tournament in Manchester in October, in the same winning Sedgefield Water Polo Club team, was Niall Coulthard, year 7.
The team is coached by George Carpenter, an ex–Great Britain player who runs Woodham Water Polo Academy.
This is the highest ranked competition in the UK and for Woodham Academy to have two players competing at this level is a fantastic achievement.
Niall has also enjoyed major success as a swimmer. His qualifying times and gala achievements are outstanding after 5 PB's at Billingham, 4 Gold medals 1 qualifying time and 4 PB's at Darlington, two qualifying times and bronze at Middlesbrough, and Gold and Silver and two qualifying times at Wear Valley. Niall will now compete at the North Eastern Regional Championships in early December with 3 individual swims.
At District level Poppy Stephenson and Jessica Webb have just returned from representing the North East at the Inter Regions under 14's competition in Liverpool. Whilst they narrowly missed out on a medal, they played some outstanding water polo and were competing two years above their age group. This means that they will have lots of opportunities to represent the district in the future.
Also at District level after representing the North East Under 17's and the Under 15's this year, Ben Stephenson has made his 3rd District team of the year and will play for the Under 14's at the Inter Regions Competition in Walsall in December along with Jake Mendelsohn, Year 7, who will play for the District for the first time.
This shows the quality of water polo players attending Woodham Academy as Niall, Jake, Poppy and Jessica have also played in Northern Water polo tournaments and won Gold in Maltby Rotherham and Gold in Aycliffe. They all travel to Lancaster in December hoping for great success again.