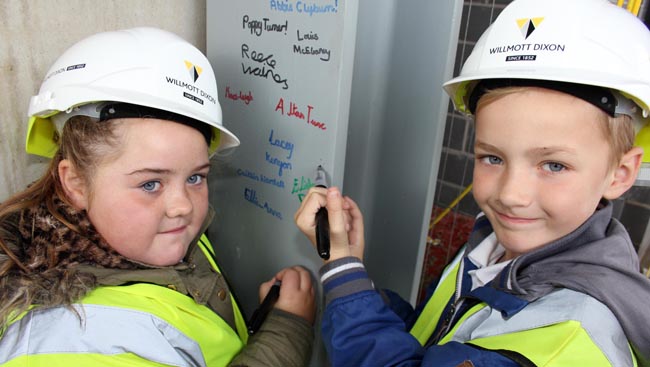 By Martin Walker
Schoolchildren have left a lasting legacy on a major new sporting venue in the region which is being constructed by a Newton Aycliffe company.
Budding athletes from Easterside Academy in Middlesbrough have seen their signatures immortalised in the structure of the main sports building at the new £18 million Middlesbrough Sports Village.
Aycliffe firm Finley Structures is constructing the steel frame of the building on behalf of main contractors Willmott Dixon.
And 12 pupils from Easterside this week signed one of the last sections of steel to form part of the new Hub building.
"It's been a fantastic opportunity for the children to come along, see how the building is coming on and also to put their names on to the structure," said Easterside teacher Delyth Linacre who accompanied the youngsters.
"When completed the Sports Village will create lots of wonderful opportunities for our children and their families."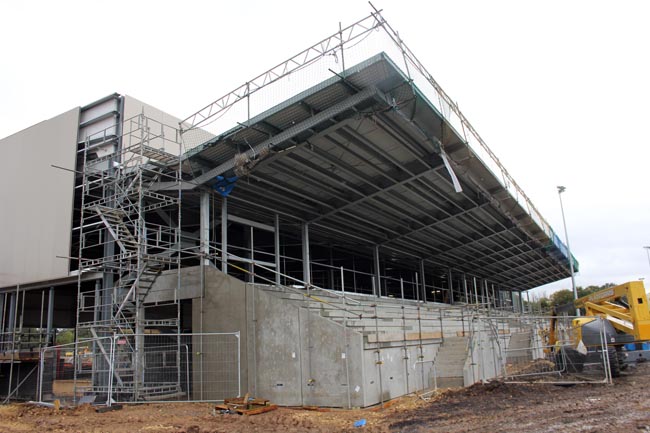 Easterside Academy is also one of the local primary schools benefiting from free running coaching provided by Willmott Dixon through a donation.
Willmott Dixon Project Manager David Dixon said: "As the key contractor to the Sports Village we feel it is extremely important to benefit and work with the local community.
"We are committed to working with local schools and colleges on all sorts of projects.
"We'd also like to inspire young people to think more about construction when they leave school and the exciting opportunities and variety of career paths they have available to them."
Key elements of the new sports village include an athletics field and stadium with a 400m track and spectator seating, a full-size artificial pitch along with grass football pitches and a fitness gym and sports hall. Work on a new £1 million velodrome is also due to start next year.
The new track is due to open for use later this month, with work on the new Sports Hub building, associated external sports facilities and sports car parking scheduled for completion in the spring.
Councillor Tracy Harvey, Middlesbrough Council's Executive Member for Environment, said: "The new Sports Village will be a major part of growing up for the next generation of Middlesbrough schoolchildren, so it's great to see them getting involved from the very start.
"It will become a centre of excellence, not just for the town but for the whole Tees area, and a great place for our young people to get their first taste of sport."