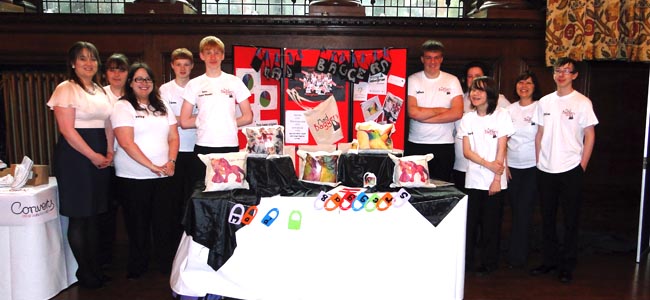 A group of inventive Year 10 students from Woodham Academy made it through to the North East Young Enterprise Area Finals which took place on 1st May at Beamish Hall Hotel.
'Young Enterprise' at Woodham Academy had already established a group to examine and interpret what is involved in setting up and running a functional company.  "Mad Baggers" had previously been selling a range of tote bags with a variety of original art on the cover at several trade venues including the Gateshead Metro Centre.
Following on from several successful sales campaigns, students had to work as a team to produce a 10 page report and PowerPoint presentation in order to secure a place in the final.  This was no mean feat considering that from 17 teams originally registered for the programme, only seven made it to the area final.  Of these seven teams, five were comprised entirely of Year 12 students.
The Woodham team achieved the objective of delegating duties and responsibilities to ensure that the management of the company was fairly distributed.  This was a positive advantage during the final as the Woodham Academy team were able to adapt to fast pace of exhibiting their products at a trade stand and being interviewed by five judges.
The structure of the group was such that four students gave a presentation to all the other participants and the judges.  The enthusiasm and motivation of the students shone through and the skills and knowledge that the group had acquired throughout the process were brought together in a very slick and professional presentation.
The team were clearly very proud to be representing Woodham Academy in this way, demonstrating their newly acquired skills of customer service, operating as a team, working under pressure, meeting deadlines, resolving conflicts, and speaking confidently in front of an audience.
The entire team has achieved a great sense of accomplishment.  They have worked tirelessly, their bags are being used by individuals all over the north east of England and they have all gained valuable experience through being part of "Mad Baggers".