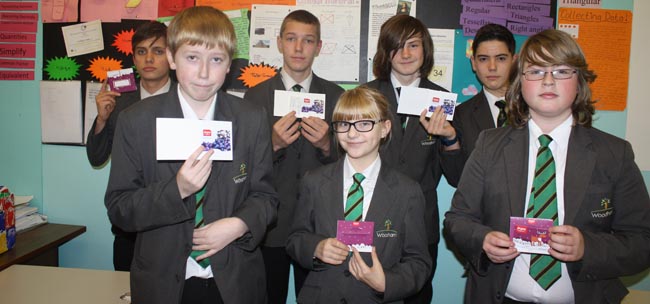 A group of Newton Aycliffe students have benefited from taking part in numeracy awareness week.
Woodham Academy recently took part in the initiative to increase student understanding of where they use numeracy in other areas of the curriculum.
The students found numeracy in a wide range of subjects including, art, cookery, technology, history P.E.,  Woodham Learning, English, Young Enterprise and science.
Students used numeracy in a variety of different ways; in science they used formulae to calculate wave length, speed and voltage.
Some students used trigonometry to calculate how far planets are away from earth.  In history students used percentages to calculate how the demand for the model T Ford car increased as the price fell.
Art students made patterns using rotation and reflection and used ratios to help them mix an exact paint colour. Young Enterprise found out how to calculate VAT and Woodham Learning students worked out the profit made on their cake sale.
Students were asked to record their numeracy experiences and take them to their mathematics lessons.
Each teacher was given a numeracy box; these had been specially designed by year 7 students and showed  their perception of numeracy. When the class had discussed their experiences the entries were put into the box.
A random sample of entries was selected and their authors won a prize of a £10 Argos voucher. Other lucky students received a lunchtime pass allowing them to "jump the dinner queue" for a week.