One of the region's oldest training providers is celebrating an increase in student numbers after committing £150,000 towards a raft of improvements.
South West Durham Training (SWDT) on Aycliffe Business Park in Newton Aycliffe, which celebrates its 50th year in 2017, has completely re-arranged its building, along Durham Way South, to introduce a new commercial training centre as well as new theory-based courses including HNCs from September.
An extra 40 learners will undertake new HNC and BTEC level three courses, while a new commercial centre will bring at least 100 more new learners through the door to study bespoke and employer relevant industrial training.
SWDT has also refurbished its learning resource centre as well as investing heavily in IT software and infrastructure.
More than £100,000 has been invested, while another £20,000 has been spent on refurbishments and another £30,000 will be spent on further improvements over the year.
SWDT, which employs 27 staff, has completed its makeover by re-branding the centre with a striking new logo and colour scheme.
It has certainly enabled new chief executive Lee Childs, an engineer from Shildon who served his time with SWDT 16 years ago, to make his mark less than 12 months since taking over the role last October.
"We went through a strategic planning process, where we discussed the direction of the centre, what we were doing, why we were doing it and what we thought we should be doing moving forward," says Childs.
"As part of that process we've talked to local companies and to students to get their thoughts on how they perceive South West Durham Training and what we should be doing."
There are three strands to SWDT's offering, including full-time courses and apprenticeship provision.
The centre also offers theory-based provision, including level 3 BTEC courses and new HNC courses from September, as well as Maths and English GCSE programmes.
But now SWDT has a new commercial training centre, to accommodate courses including fork-lift truck provision, while it's also developing programmes in electrical safety, electrical maintenance, manual handling and other compliance-based training for industry.
"We're now developing programmes to cater for specific needs of clients," says Childs.
"So we're currently working on a solution for Siemens S7 PLC programming, and we're also developing hydraulics and pneumatics programmes, as well as bespoke training and apprenticeships in polymer processing. There's a real commercial element to the centre now.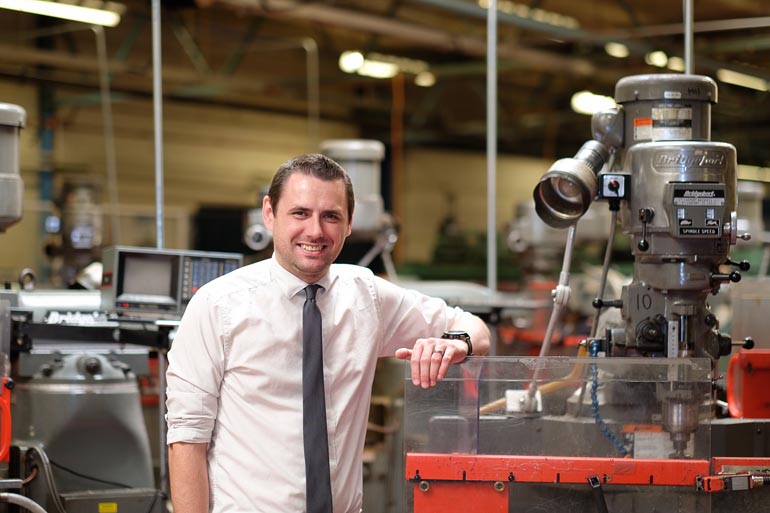 "Some of the training we do is off the shelf and we have to stick to a certain syllabus, but within the commercial offering we're trying to be more bespoke. For example, we have three customers which each require different models within their electrical training – one needs a three-day model, one a five-day model and the other needs a 10-day model, so we're changing the curriculum and making it bespoke to each of those individual companies.
"Everything we do is aligned to employers' needs in the hope of plugging the skills gap of today and tomorrow."
Childs' vision has brought about SWDT's biggest changes for many years.
"We've changed how the building works and looks," he added. "The learner facilities will have completely changed, including new locker rooms and a renovated learning resource centre with new learning materials and facilities.
"We've also invested a lot of money in our IT infrastructure and we've introduced a virtual desktop interface (VDI), which runs all of the software and networks on a server remotely, and means we can log on anywhere in the world and access all of the software we have licensing for such as CAD software.
"It will increase speed as well as giving us greater accessibility for our learners."
The UK government has set a target of creating three million new apprenticeships by 2020 in a bid to boost skills and end youth unemployment.
And earlier this year, SWDT welcomed new apprentices from Hitachi Rail Europe and 3M in Aycliffe, Darlington-based Cummins, Stockton-based car parts maker Nifco and Barnard Castle-based pharmaceuticals giant GSK. All are on engineering/manufacturing programmes with bespoke elements required by their employer, including hydraulics, pneumatics, electrical, fabrication and welding.
SWDT now has more than 300 learners on the books across all years and a number of new customers.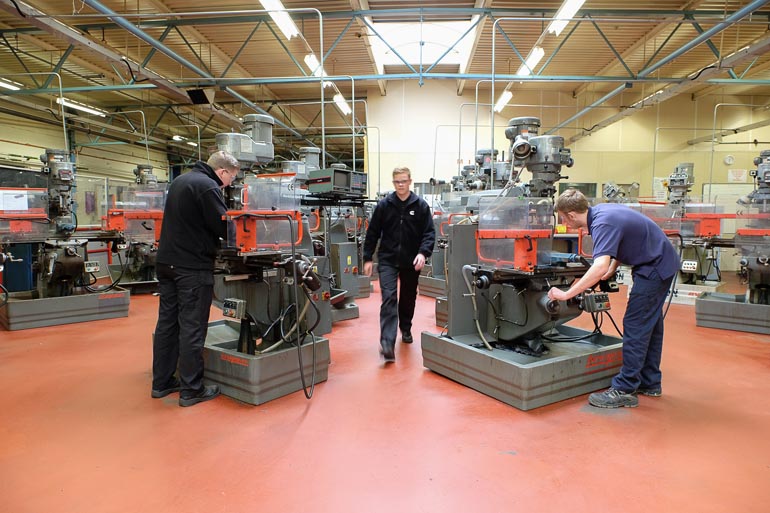 Clients include other Aycliffe firms such as Husqvarna, Senstronics and Ebac, while SWDT also provides apprentices for Darlington firm Mech Tool Engineering and Spennymoor's Thorn Lighting.
"We're happy with what we've achieved in such a small period of time, with very little capital spend," says Childs.
"We want to make our commercial candidates as good as they possibly can be. We're investing in what we need but we're doing that wisely. And we're also finding that we we're securing a lot of different work with our existing customers, who are coming back to us with specific needs."
SWDT, which is a subsidiary of Bishop Auckland College, will next year celebrate its 50th anniversary as an engineering training provider.
In 2011 its £3.6m manufacturing and product design training centre, offering state-of-the-art facilities, was opened, and includes high-tech equipment including 3D laser scanners, laser cutters, rapid prototyping machines, routers, highly-automated and flexible manufacturing systems, CNC lathes and millers, floor standing pillar drills and an industrial process control station.
• Find out more about SWDT at www.swdt.co.uk or call 01325 313194.
• Pictured (above) is South West Durham Training chief executive Lee Childs with some of SWDT's apprentices, including: 3M mechanical and electrical maintenance engineers Joseph Robson, from Shildon, and Joshua Brown, from Ferryhill; Cummins maintenance engineers Thomas Allen, from Skelton, and Callum Lessels, from Redcar; and GSK multi-skilled engineers Adam Kicks, from Barnard Castle, and Matthew Teare, from Heighington (Pic: KEITH TAYLOR)