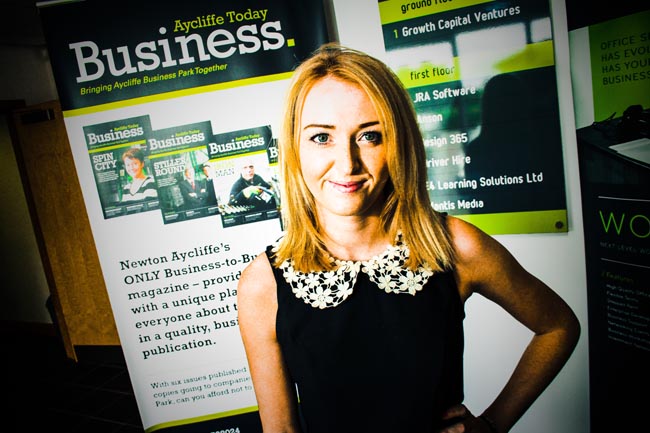 Newton Aycliffe student journalist Zoe Skerrett has started a four-week internship programme with Aycliffe Today.
Now we want to hear from local groups, charitable organisations, sports clubs and individuals who have an interesting story to tell!
Zoe is going into her third year of a BA (Hons) degree in magazine journalism at Sunderland University.
The 20-year-old, who has ambitions of writing for a fashion magazine in future, was paired up with Aycliffe Today through Sunderland University's internship programme.
Editor Martin Walker said: "Zoe's experience of writing for magazines, and the fact she's from Aycliffe, made it a perfect match.
"Zoe has already worked on some features for both our community magazine as well as Aycliffe Today Business and has demonstrated a good ability to turn her hand to a variety of subjects.
"There's certainly plenty for her to do, but we want to hear from local groups who have an interesting story to tell."
Zoe's course has already covered modules including shorthand, media law, magazine design and fashion journalism.
And while with Aycliffe Today she will cover a variety of subject areas including news, business, sport and the community.
"I'm delighted to be joining Aycliffe Today, which will give me some great hands-on experience of putting a number of feature articles together," she said.
"It's also a crucial part of my studies which will go towards my final grade.
"I've already worked on fur features this week and looking forward to getting stuck into more over the next four weeks!"
Zoe left Woodham Academy with seven As and five Bs in 2010 before studying Media Studies, Fine Art, Textiles and Maths at Darlington Queen Elizabeth Sixth Form.
During her time at Sunderland University, she has worked on the Uni's Spark Sunderland magazine – designing the fashion pages and writing features – as well as My Student Magazine, a student website which Zoe contributes a variety of features to.
She has also written for the likes of Yuppee, Dress For Success, Sunderland University's About US Magazine, Fashion North, My Fashion Shop, Miss Celeb Style and Just For 5 Pounds.
• If you have a story or feature for Zoe, call the editor Martin on 01325 728024 or mobile 07826 525907, or email [email protected]