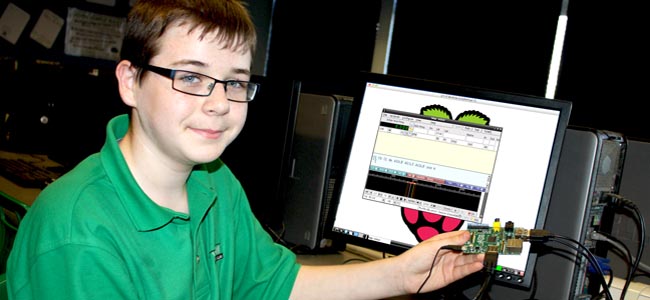 Woodham College student Andrew Cumming has become one of only a few thousand people globally to get hold of an innovative new computer, the Raspberry Pi.
The Raspberry Pi is a small, affordable device designed to reboot the UK computing industry.
The device is the size of a credit card with the top model costing a little over £20.
Students can use the device to run educational programs such as Scratch or learn programming with Squeak or Python.
"I really like it," said Andrew, from year 7. "It is helping me learn how to program and is teaching me about how computers work."
Woodham Associate headteacher added: "Original projections were to sell a few thousand of the devices but demand has been so high they are now producing 4,000 a day and there is still a backlog of a about 12 weeks.
"Andrew was really lucky to get hold of one. Students at Woodham already learn how to program things such as computer games.
"Now they will be able to dig deep in to the operating system, learn more about how computers work and do amazing things at very little cost."