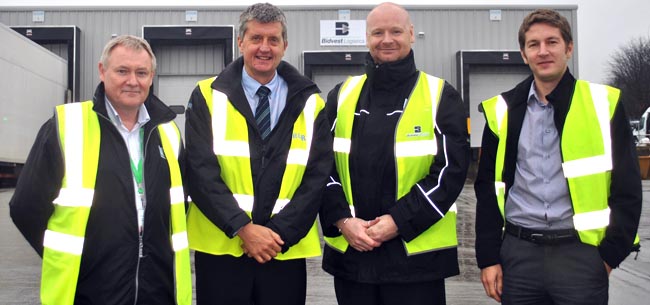 A Newton Aycliffe warehousing and distribution firm has landed a significant contract with Bidvest Logistics, part of the global Bidvest group in a deal which will initially create 10 new jobs, with more to follow.
Stiller, based on Aycliffe Business Park, will enable Bidvest Logistics to open the first satellite depot for its Manchester-headquartered multi-temperature food distribution arm.
Bidvest Logistics manages daily store deliveries across the UK, to clients such as Pizza Hut and KFC, and is aiming to boost its services, improve efficiency and reduce its carbon footprint through the new North East satellite depot.
Stiller will supply loading and unloading staff, transportation services and vehicle maintenance as products are delivered to 160 sites in the region from the new temperature controlled storage that has been installed to store the Bidvest Logistics products.
It is estimated that 1.5 million cases of freight will be moved between Bidvest Logistics and Stiller in the first year with the potential to hit the 2 million figure within 5 years.
This innovative partnership will be very positive for the region with initially 10 new driving jobs being created at Stiller, and more expected to follow in the year ahead as the satellite depot gets up to full capacity.
Stiller's managing director Paul Stiller said: "I'm extremely excited to be able to accommodate Bidvest Logistics on our site and the move fits in with our overall plans to create a logistics centre on Aycliffe Business Park to service the requirements of local and national companies."
Shaun Foley, COO of Bidvest Logistics, added: "Stiller is the perfect location for our first satellite depot.
Newton Aycliffe is the optimal centre of gravity for distribution to the whole of the North East and there is an additional 14 acres to expand into. Stiller also shares the same strong customer service ethics as Bidvest Logistics."
Earlier this year Stiller invested £3m in developing the business after buying its Newton Aycliffe site outright.
Bidvest is an international services, trading and distribution company which employs 105,000 people across four continents.
● Pictured above: The Stiller and Bidvest team (from left) Rob Owen, Paul Stiller, Neil Howard and Matthew Stiller.