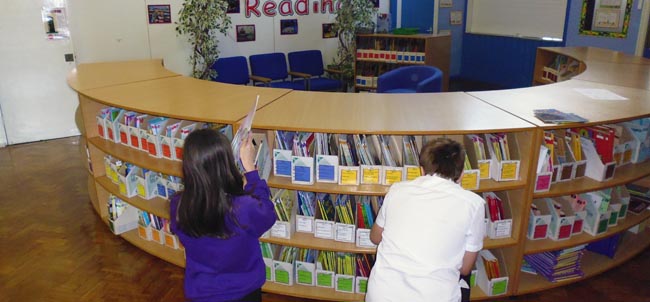 Two pupils from Stephenson Way have been chosen as part of Newton Aycliffe Library's young librarian scheme.
Millie and Kurtis showed in their applications that they possessed the dedication and enthusiasm required to earn a place on the programme, which led to them being selected and starting their roles during the half term holiday.
They are learning book referencing skills; enabling them to help keep the library in order.  They have also looked at promoting reading, whereby they are being asked to create displays for some of their favourite books to try and inspire other people to read them. This involves ordering extra reading materials from other libraries and incorporating posters into their displays to ensure they catch the eye of would-be readers.
Over a four-week period the children are learning skills that will help them as they grow up. They have shown fantastic commitment by taking on the role which requires an hour of their time outside of their school schedule and are developing their language and social skills by interacting with the community in an official capacity. "It is a good experience for the future" adds Millie.
Both the children are enjoying their extra responsibilities and getting to learn about the role a library has in the community.  Kurtis says "I like helping people, seeing all of the different personalities and which books people like to read."