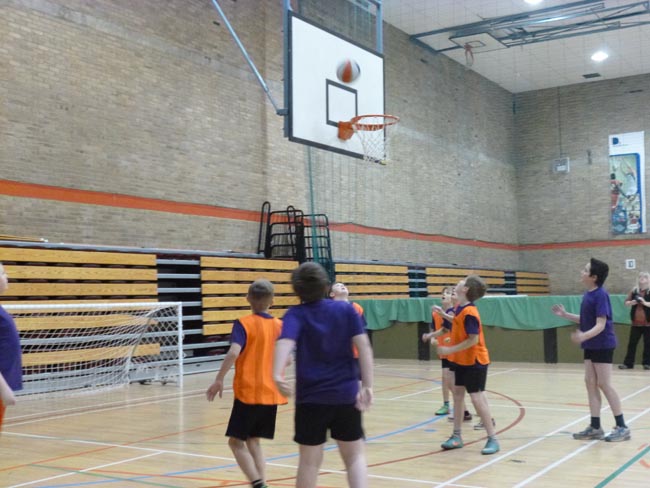 Report by Stephenson Way Year 6 pupil Liam
On Thursday 13th February, there was an amazing basketball competition held by members of the Durham Wildcats basketball team. On that day, 7 competed to be number one. These 7 teams were from Thornhill, Walworth, Saint Joseph's and who I will be reporting on the most, Stephenson Way Primary School. Anyway, let's get into it!
The teams began their warm-up routine before practise, and it showed me just how much they wanted to win. It was clear that they'd been anticipating the day, putting all of their training to use. During the practise and warm-up, they were agile and raring to go, passing the ball like crazy. Their team spirit looked like it was pulsating off of them all.
At the beginning, after everyone got there, there were two Wildcat players who talked about the rules and basketball in general. After the pair had finished giving advice, the first match of Stephenson Way's started. First up, it was Stephenson Way "A" team who battled Saint Joseph's. This was the first match, so it was special. Both teams fought with determination in an effort to win. In the end the Stephenson Way "A" team was the winner; 10-2.
During a match with two other schools, a child was injured and unable to play basketball. A child from Stephenson Way stepped in to fill the gap in the team. This showed the sportsmanship of the teams that were there with this show of fair play.
Lastly, I will report the final two matches that took place that day, which were Stephenson Way "A" versus Stephenson Way "B". It was friend against friend now, and it was a very close match. In the end, "B" team had won, with a very close score of 4-2. However, that was not the final, and the two teams needed to play again to decide the overall winner. The entire court was being used to its fullest. They were taking the ball, passing the ball, shooting as many times as possible. It was one of the greatest battles of the entire competition and once again Stephenson Way "B" came out on top, with a score of 8-0. It truly was the battle of the ages.
Overall, Stephenson Way B team finished 1st, but, Stephenson Way A also did brilliantly, finishing 2nd overall. Third place was won by  Thornhill "A" who also fought valiantly in the competition. The last thing that must be mentioned is that in the end, the "most valuable player" award (MVP) was won by Stephenson Way's own Tristan. That was it for the tournament. Stephenson Way came out with first and second place and went home after a successful day of basketball.