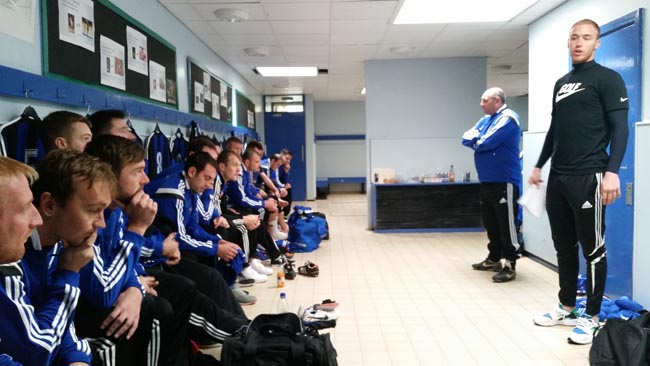 By Martin Walker
He'd just kept another clean sheet for his new club, Blackburn Rovers. And with his proud parents watching from the Ewood Park stands, it should have been a memorable day.
But after the 0-0 draw with Huddersfield last Saturday, joy quickly turned to sorrow.
Boro 'keeper Steele, on a season-long loan with Blackburn, was buzzing after impressing on his fourth appearance for Rovers.
Mam and Dad – Paul and Sonia – had made the trip to Lancashire to watch their son, but after a shattering half-time phone call, couldn't bear to watch the second half.
Paul had just been told his lifelong best friend, Darren Ablewhite, tragically and suddenly died earlier that day after collapsing at the end of a fun run in Liverpool.
"They couldn't even watch the second half," said Steele.
"They were waiting for me in the car and as soon as I saw them I knew something was wrong.
"I was feeling quite bouncy after keeping a clean sheet – not knowing what had happened – but then they told me, and we just sat in the car for a while, cried and consoled each other.
"But then the one thing we agreed on was that Able would have been so pleased for me, and I tribute that performance to him."
That wasn't the only tribute Steele paid. The very next day, he had the difficult task – as joint-manager of the Sunday morning Big Club side – of talking to his players.
It was a big game against Sherburn Village the Club had to win, in trying circumstances.
And, after a minute's silence beforehand, they ran out comfortable 3-0 winners, with an emotional Steve Richardson also keeping a clean sheet.
"The changing room was shell shocked. It wasn't a nice place to be," admits Steele, pictured (above) with joint-manager Dave Owen (pictures kindly provided by Peter Allison).
"A lot of them just didn't know how to express themselves and I just felt that I had to be strong for them, but it was emotional.
"It's so unfair that life has to go on. But I know Able wouldn't want anyone moping about and feeling sorry for themselves.
"He would have wanted that game to go ahead and he would have been rooting for Stevie in goal.
"Stevie Rich grew up, like me, watching Able play in that great Acorn side and looking up to him. He wanted to keep a clean sheet for Able and it was a game the lads really wanted to win for him.
"I think now, if we win anything, it will be a tribute to both Able and Frankie Swinburne."
As well as being remembered as 'The Goalie', Steele says Darren will forever be remembered as a great friend.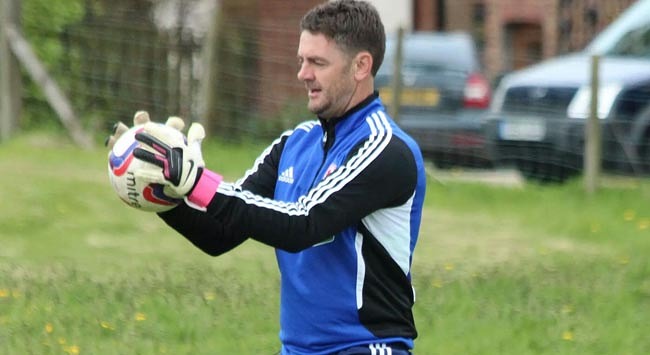 "Able was a top goalkeeper. He helped us out at the Club a few times and I genuinely think he got better as he got older," says Steele.
"But, more importantly, he was just a nice human being. It didn't matter if you were close to him, if you met him he made you feel good, and he knew how to make people laugh.
"He was a really close friend to the family. He's been my Dad's best friend since they were in nappies and them two and Geoff (Allen) have been around each other ever since.
"He was my little brother's god father so he'd always be round at Christmas and birthdays.
"I know a lot of the lads were out last Sunday, having a drink and remembering Able, but my Dad and Geoff just couldn't face it, and Dad was quite emotional during the minute's silence at the Aycliffe game on Wednesday night.
"It's just so unfair. And the worst thing is nobody is allowed the time to just grieve for a few days.
"Sometimes you just want to sit and cry, but life has to go on. We all had to go to work on the Monday – I left Aycliffe at 6am to get to training, and you're thinking to yourself 'what am I doing here?'.
"But as I said, Able wouldn't want that. He'd want us to just get on with things and to be happy, and that's the mark of the man."
Darren's funeral arrangements are yet to be finalised, but Steele added: "They'll need a few extra seats, that's for sure."