Steel firm Finley Structures has won a contract to build a second university building for leading major contractor BAM Construction.
The family-run steel company, based on Aycliffe Business Park in County Durham, has started work on a 400-tonne project to construct the Sarah Swift building at the University of Lincoln.
The new £19m facility will house the university's Schools of Health and Social Care and Psychology, as well as a Professional Development Centre with ongoing training for medical professionals in Lincolnshire.
It will stand on the site of the 19th century Pea Warehouse, which has been demolished to make way for the five-storey building, and is due for completion in May 2017.
The contract win comes after Finley Structures erected 500 tonnes of steel for BAM Construction to help build the £16m Isaac Newton building, which will house the university's Engineering, Computer Science and Maths and Physics departments.
Finley Structures is now in negotiations to become a category 1 supplier to BAM, which is based in Hertfordshire but has locations across the UK, and is part of the Dutch-owned Royal BAM Group.
There are currently only 300 category 1 suppliers from BAM's 14,000-strong database of contractors, and Finley's operations manager Jim Graham says it would be a huge feather in the cap for the Aycliffe company.
"Just to be in discussions with BAM about becoming a category A supplier is a great achievement," said Graham.
"It's not just ticking a box, it's a formal agreement, a legally-binding contract which is not a very quick process.
"But it's recognition for your company, its values and performance, and as a family-run business from the North-East we're delighted to have this recognition."
After working on a number of projects for BAM in recent years, Graham insists it's the two company's shared values which make it a perfect fit.
He added: "They're quite unique in that BAM isn't following a UK mode, it's a Dutch model with a parent company from the Netherlands, where aggression is frowned upon.
"They're very open and they expect you to be the same, so we have matching values of honesty and fair play.
"They follow our ethos, which is about getting value for money. They want to perform with their clients, their clients like them because of their attitude and they're finding they're getting a lot of repeat business because of the way they approach the end-user.
"We've now done a number of projects for them which is why we're standing out to them now."
The University of Lincoln is investing a total of £19m to create the Sarah Swift Building, named after Dame Sarah Swift, nurse and founder of the College of Nursing (now the Royal College of Nursing), who was born in Kirton Skeldyke, South Lincolnshire.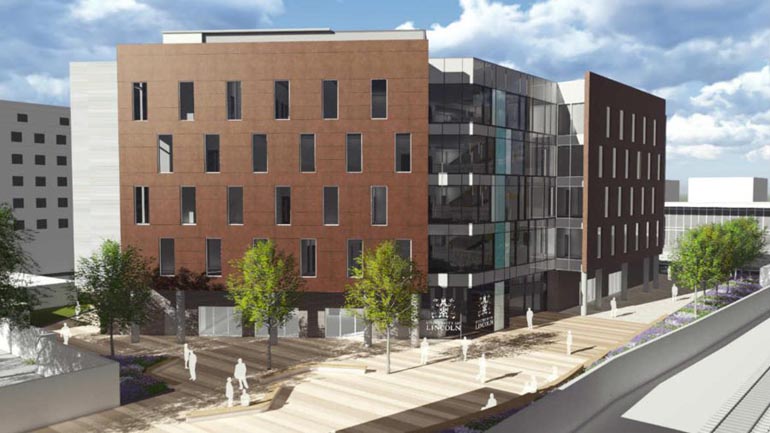 The building will bring the whole School of Health & Social Care together in one location for the first time, replacing its existing facilities in the Think Tank and Bridge House.
It will include advanced clinical simulation facilities for the School's Nursing programmes, as well as tutorial, social learning and office space for the School's students and staff. The building will also collocate the whole School of Psychology for the first time, replacing the School's existing facilities in the Minerva Building and Bridge House.
Finley Structures has recently completed a 2,600-tonne project for Sir Robert McAlpine at the Victoria Gate retail development in Leeds and is currently working on a 1,900-tonne contract for C Spencer at the Energy Works Power Plant, a new energy-from-waste (EfW) plant, in Hull.