Finley Structures has boosted its management team with three key appointments as the company goes on a recruitment drive.
The family steel firm has appointed Kelly Vasey in a new role as management accountant, Stuart Baxter as safety, health, environment and quality (SHEQ) manager and Alan Bailey as welding inspector.
The firm's joint managing director Julie Raistrick (pictured above, right, with Kelly) says they are three crucial roles for the firm as it looks to take on more staff this year.
The new arrivals have already boosted numbers to 71, while Finley Structures are still looking to take on another quantity surveyor and a site supervisor.
"It's an exciting time for the company in terms of new faces coming in," she said.
"We're bringing in a new level of expertise and experience which we haven't had before and it will help to tighten some sides of the business up and make us more streamlined.
"We've had a hugely positive three years in terms of turnover and now we're looking to use that success by building for the future."
Kelly, 33, is from Shildon and is fully-qualified through the Association of Chartered Certified Accountants (ACCA).
She worked in practice from 2002–2006 and qualified in 2008 whilst at Mech-Tool Engineering, becoming management accountant, before holding financial controller roles with Hertel's oil and gas division at Wynyard and Catterick IT services provider Razorblue before joining Finley Structures.
"The size of the company appealed to me," said Kelly. "It's a very similar sized company as one of my previous employers, it's local and is successful."
Stuart (below right), 47, from Durham, originally trained in body shop repair but now has several years' experience in health and safety roles with Hashimoto (now Faltec) in Boldon, De La Rue at Team Valley and SNOP in Washington.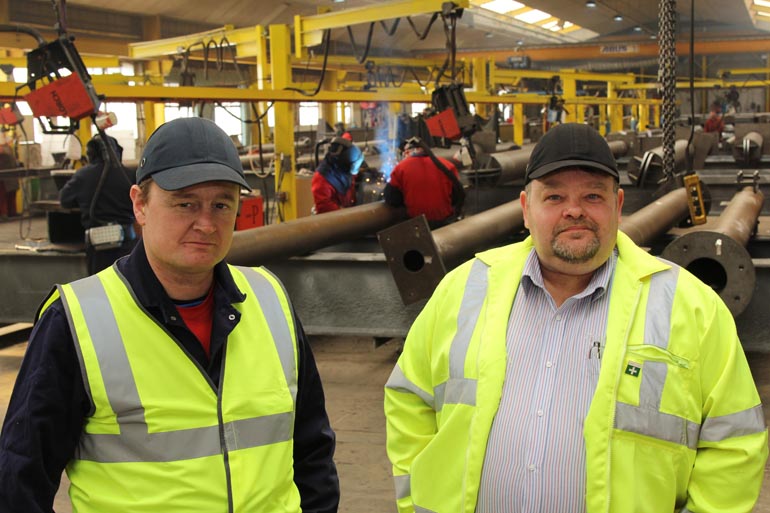 He said: "This is a new challenge for me and a good career move.
"I've been in manufacturing production environments for a lot of years, but here they have the site aspect of the business, which is something that's new to me.
"From a safety point of view, it's a different environment out on the sites to what I'm used to, but it's a good role for me because it's stretching me and is giving me a different level of experience all together."
Alan (above left), 46, from Shildon, joined the Royal Electrical and Mechanical Engineers (REME) from school and served his time as a metalsmith, spending several years in the forces before joining Evenwood engineering as a team leader.
He then spent a number of years as a welding inspector with a structural steel company and GT Project Engineering in Consett before heading to Aycliffe.
"It's a new position for Finley Structures so I'm defining the role as it is, which is a great challenge" said Alan.
"I'm looking forward to implementing my ideas. I'm a very lean-thinking sort of person and I like to streamline operations as much as possible, and I'm already enjoying it very much."
• To apply for the available jobs at Finley Structures, call HR manager Pauline Hadwin on 01325 328120 or send a CV and covering letter to [email protected]