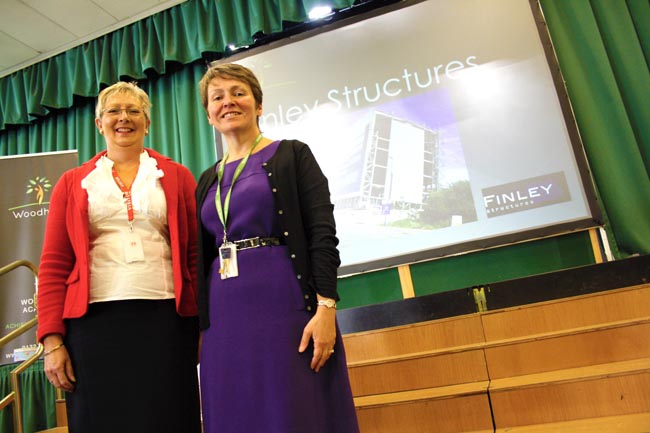 An exciting new apprenticeship awareness programme kicked off at Woodham Academy on Wednesday.
Firms including Tallents Engineering, Flymo Husqvarna, Finley Structures, Aycliffe Fabrications, Palram, EBAC and Stiller Transport have joined forces to launch an Apprenticeship Awareness Programme, working with Aycliffe's two secondary schools.
It will involve companies giving a brief demonstration to Year 9 students at both Woodham Academy and Greenfield Community College during a series of workshop carousels, dubbed "speed networking", to give young people a flavour of the work they do.
Finley Structures HR boss Pauline Hadwin, pictured with Woodham Academy head Christine Forsyth, delivered the steel firm's presentation to students on Wednesday.
Following presentations, the youngsters were split into groups who will now visit their selected company, when they'll get to learn more about their chosen industry, from manufacturing to IT and HR.
The programme, funded through the Great Aycliffe and Middridge Partnership (GAMP) and in partnership with the town's two secondary schools, is designed to get school-leavers interested in apprenticeships.
The project is being led by Woodham Academy with input from EDT, the largest provider of Science, Technology, Engineering and Mathematics enrichment activities for young people in the UK, and supported by both Woodham and Greenfield schools.
Sedgefield MP Phil Wilson has publicly backed the initiative, saying: "I think it's a fantastic idea – Apprenticeships used to be the natural step for most people when leaving school, but there seems to be a stigma attached to apprenticeships in the construction and engineering industry – it's normally associated with oil and grease – and there's so much more to them than that."
Sarah McGinnety, Assistant Headteacher at Woodham Academy, added: "We want to educate our students and their families in what following an apprenticeship route might bring to their future.
"For a lot of young people, college may be their chosen path, but this does at least give them a taster of industry – even if it isn't for them, this programme will enlighten them and help them make an informed decision about their future.
"We'll also involve parents and guardians in the programme, as it's important that they also see what apprenticeships in these industries are all about."
Around 150 students, split into six tutor groups, will visit company sites next week.