Sitting on the boundary of Aycliffe Business Park, and within several acres of beautiful greenery, Oakleaf Sports Complex offers a top-class all-round venue for business and pleasure.
Its array of sporting opportunities and longstanding support from the town's people means the Complex – which is provided by Great Aycliffe Town Council – already has a well established affinity with the local community.
Indeed, nearly everyone who has lived in Aycliffe has played one or more sport there at least once.
But it's the people who work on the business park every day – some of whom may not live on the town – who might be unaware of the Complex's hidden qualities.
Aside from its function room which can accommodate up to 60 guests, and is often used by a handful of Aycliffe companies for conferences and meetings, it has a recently-refurbished bar and restaurant supported by a fully-equipped kitchen and three full-time chefs – ideal for a staff night out.
Buffets can be made for firms looking to take a group of staff off-site for meetings or training sessions, while the sporting options also provide some off-beat team-building opportunities which can incorporate a bit of everything.
Leisure manager Judith Thexton says: "We can adapt to just about any requirement and we have lots of space and options to provide plenty of choices.
"We have regular firms that use us for training purposes, and we've also had team-building companies coming in and using the bowls or golf to break things up a bit, followed by some food.
"Our function room caters for up to 60 people and boasts some stunning views across the town, while all our food is freshly prepared on-site, so those who do use our facilities usually keep coming back to us.
"All-in-all we have a fantastic facility which is here for the public and local business to utilise."
Football, squash, badminton, table tennis, netball and bowls can all be played at the Complex.
And then there is, of course, the golf course and driving range…
Previously described as a rich man's game in years gone by, playing golf at the Oakleaf is cheaper than going to watch football matches, and the golf shop's forward-thinking manager wants to engage with local businesses.
Oakleaf course brings back happy memories for footballer Steele
Julie Welch (pictured above) is a PGA professional and has been with the Complex for 18 months, having previously held similar roles at Ramside Hall near Durham and Sharpley Golf Club in Seaham.
"I'm very much into golf development," she says.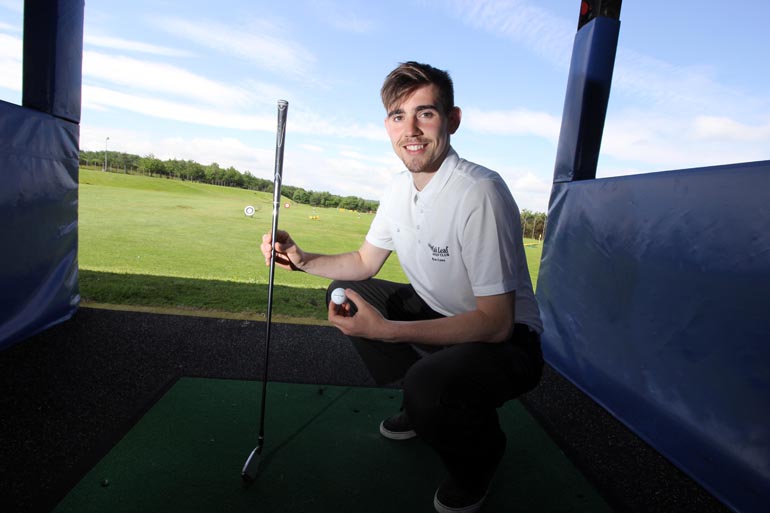 • Golf shop assistant Ryan Coles at the Oakleaf's impressive driving range.
"I want to take people from total beginners right through to full members, and hold their hand every step of the way.
"It's a nice, friendly facility here at Aycliffe and really affordable. People think golf is an expensive sport, and it really isn't, especially for children. Under-14s membership is £25 for the year, and it's a wonderful summer hobby for the youngsters to fill up their time during the school holidays!
"We've got some good procedures in place. We start with the Get Into Golf, which is £5 an hour, and work with them until they're ready to go on to the course."
Julie got into golf when she went with her father to their local driving range, and eventually turned professional when she was 40.
"Coaching is my passion now, especially with ladies and juniors," she adds.
"Ladies find it quite hard to get into golf. Men will go down the pub and their mates will ask them for a game, and it's as easy as that. I think ladies can be a little intimidated by it, and there aren't as many ladies into golf."
Julie is also looking for ways to get more businesses and young people involved.
She's working with County Durham Sport on some work-placed initiatives and she's also looking to launch some business-friendly programmes to attract local firms.
"You can get golfers and non-golfers playing together, chipping and putting," she says.
"They're out in the fresh air and it can act as good team-building exercises, and it could also be the start of a great hobby!
"We're also trying to encourage families and we very much want this to be seen as a family facility.
"I've been going out to local schools and I'm teaching around 400 Primary School children every month.
"We get them into 'tri-golf' with the plastic clubs and they love it. It's about engaging with them from a young age so they get the bug.
"I'm really passionate about golf, I think it's a fantastic sport for both healthy reasons as well as being a very social game, and is something that a lot of businesses could use for their staff."
• To ask about corporate events or team-building opportunities at the Oakleaf Sports Complex, call 01325 300600.