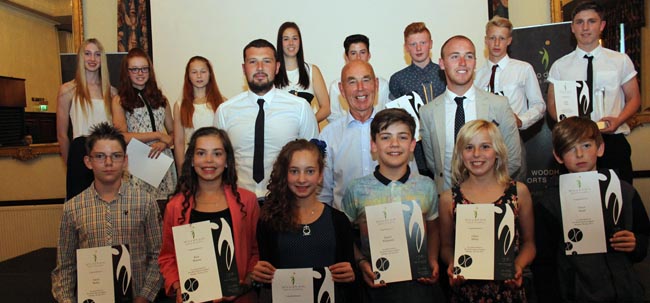 By Martin Walker
Local football stars Ross Turnbull and Jason Steele were the special guests at Woodham Sports Academy's annual awards ceremony this week.
Football referee George Courtney, who used to teach at Vane Road School in the town, also gave a humorous speech before helping to dish out the awards along with Turnbull and Steele, Woodham Sports Academy's ambassadors and former pupils.
The winners were:
• Woodham Sports Academy Individual Achivement of the Year Award: Ben Stevenson
• Woodham Sports Academy Recognition of the Year Award: Keera West
• Woodham Sports Academy Team of the Year: Gymnastics Academy
• Contribution to Woodham Sport: Haydn Maclean
• Woodham Sports Academy Young Sports Performer of the Year Award: Joshua Bayne
• Woodham Sports Academy Performer of the Year Award: Ryan Harris
• The Mark Bulman Award: Harry Condren
Sports Academy director Liam Clough: "The awards night makes me realise how fortunate I am to be working with these amazing students every day.
"I can honestly say I have the best job in the world!"
Former Boro and Chelsea goalkeeper Turnbull told Aycliffe Today: "It was a fantastic evening, very much a success, and a great honour to be asked to come back and present some of the awards.
"The sports provision at the school now is brilliant. When I was at school it was totally different. Now there's table tennis, water polo, basketball, even American football, we had none of that.
"Results are already showing that Woodham is a fantastic school to come to. It's a great credit to all of the staff who are working hard."
Turnbull won a Champions League medal during his four-year stint with Chelsea, and he added: "Everyone has a dream. I had a dream when I was at school, it was the only thing I wanted to do.
"If you have a dream, you dedicate yourself and push for it to reach that goal."
More on this, and the individual winners, to follow soon on Aycliffe Today.