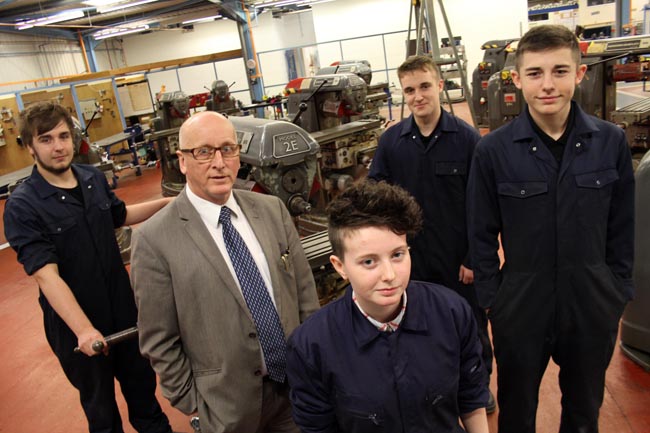 By Martin Walker
South West Durham Training (SWDT) has already started training up some of Hitachi Rail Europe's future train-building engineers.
The Newton Aycliffe-based training provider, recently rated 'outstanding' by Ofsted, has started working with the Japanese firm, which has now based some key management personnel at SWDT's premises at the heart of Aycliffe Business Park.
Hitachi is investing £1m in a prototype train which is expected to be shipped from Japan and installed at SWDT in December.
Four Apprentices who will be among the first to work on the prototype train have already started working with SWDT's trainers, including 17-year-old Sally Beadle.
"It's a very exciting opportunity and I'm already loving every minute of it," said Sally, from Durham.
"Hitachi is here for the long-term and I see this is a fantastic and secure career opportunity."
Joining Sally at SWDT is Lewis Mollon, 19, also from Durham, as well as Jake Cox, 17, and Gary Patterson, 16, both from Darlington.
SWDT chief executive Trevor Alley said: "We are proud to have been chosen to train the first four electrical and mechanical engineer Apprentices on behalf of Hitachi.
"We are also providing office space to Hitachi staff up until the completion of their facilities, and we will be providing space for the location of a training train shortly."
SWDT recently announced a new partnership with Bishop Auckland College, in an agreement which will see the Aycliffe organisation retain its status as a separate company and registered charity within the college's structure.
It will combine the strengths of each organisation, including recent apprenticeship success rates at SWDT and the college's track-record of good Ofsted ratings.
SWDT revealed in August it had been rated 'outstanding' by Ofsted after a series of year-long improvements – a stamp of approval under the Further Education and Skills inspection report, which attributed the result to the hard work and commitment from all its staff.
As a result of their 'outstanding' rating, SWDT is now supplying six Apprentices to Darlington firm Cleveland Bridge and continues to work with leading Teesside manufacturer Nifco.
It comes off the back of a successful Employer Pledge initiative that SWDT carried out earlier in the year.
Trevor added: "As part of the pledge, we're offering a service to employers to help them to recruit suitable candidates, carry out selection processes, arrange for employers to present to our learners, interview and recruit, source assistance with funding, carry out a business needs analysis and deliver high quality training programmes tailored to meet the employers and learners needs.
"More than 100,000 employers, in over 160,000 workplaces, currently use Apprenticeships to attract new talent, re-skill existing staff and tackle skill shortages and the Government is also backing Apprenticeship programmes by encouraging firms to take them on with incentives."
Apprenticeships deliver for businesses and help them grow by:
• Reducing training and recruitment costs
• Increasing productivity and your bottom line
• Developing a skilled, motivated and qualified workforce
• Improving customer service results
• Providing financial return on investment.
"Apprenticeships deliver real returns to your bottom line, helping to improve productivity and competitiveness," added Trevor.
"Training Apprentices can also be more cost effective than hiring skilled staff, leading to lower overall training and recruitment costs.
"Apprenticeships deliver skills designed around your business needs providing the skilled workers you need for the future.
"They also help you develop the specialist skills you need to keep pace with the latest technology and working practices in your sector.
"Apprentices also tend to be eager, motivated, flexible and loyal to the company that invested in them.
"Remember, an Apprentice is with you because they want to be – they have made an active choice to learn on the job and a commitment to a specific career."
SWDT has been producing engineering apprentices for almost half a century, with noticeable graduates including Stewart Wingate, the chief executive at Gatwick Airport, Mike McCabe, former plant manager at Cummins Engines, in Darlington; Mike Matthews, managing director of Eaglescliffe-based Nifco UK, Caraline Robinson, Husqvarna's operations director in Spennymoor, and Gareth Berry, vice-president of Electrolux Major Appliances' global operations.
• Firms who'd like to speak to SWDT about training opportunities can contact Trevor Alley on 01325 313194 or [email protected]
Pictured above: South West Durham Training CEO Trevor Alley with Hitachi Apprentices (left-to-right) Jake Cox, Sally Beadle, Lewis Mollon and Gary Patterson.