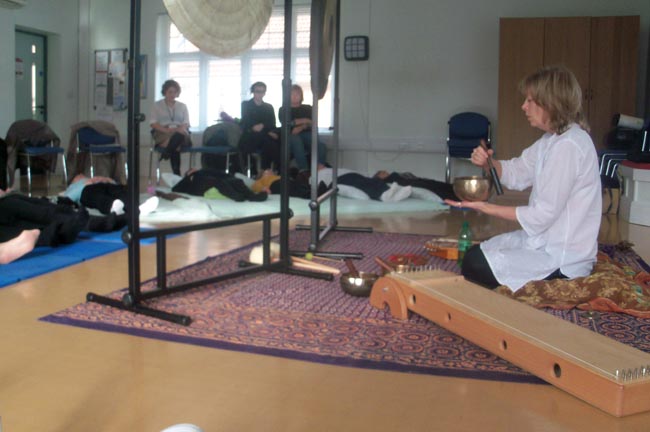 If yoga seems a little too much like hard work for you, and you want to try something different from a one to one therapy, how about trying a very special aural event known as a Sound Bath?
PCP's Sound Therapist Jane Farrand will be facilitating another Sound Bath at the Pioneering Care Centre.
The next one is on Friday 25 April, 10.30 – 11.30am and will cost £5.
Participants settle down, relax and allow a wash of sounds to cleanse their bodies on physical, emotional and mental levels to aid relaxation and encourage healing to take place.
After a session, participants have reported that they feel calmer, extremely relaxed both physically and mentally, more in control of their life, and sometimes find long-term issues have resolved themselves.
With such benefits on offer, why not give it a try? All that is required of you is that you rest on the floor or in a chair; the therapeutic sound will do the rest.
The gentle flowing sounds of Himalayan singing bowls, monochord, the powerful resonance of the gong, will immerse you in a feeling of relaxation and calm.
Sound therapy uses different types of sound, from instruments, a piece of music, voice, or all of three to help improve your health and wellbeing. Sound therapy can help create change in both our physical and emotional state.
Booking is advisable as at only £5 per person this event will be very popular.
To book your place contact the Pioneering Care Centre on 01325 321234 email: [email protected] Visit PCP's website www.pcp.uk.net
To find out more about the benefits of Sound Therapy visit Jane's website: soundaffects.uk.com