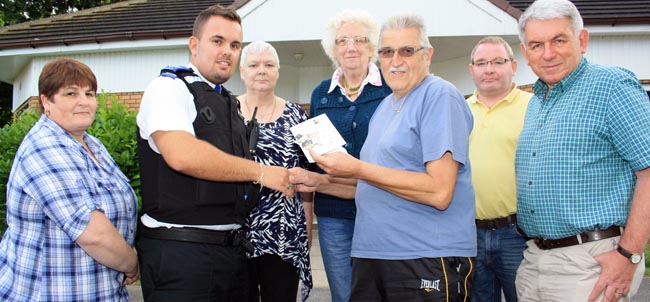 By Martin Walker
A police special constable will be able to get "something blue" for his wedding thanks to a generous gift from local residents.
A small group of community-spirited Newtonians have clubbed together to buy a wedding card and present for PCSO Mike Welch, who is part of the Aycliffe Neighbourhood Policing Team.
The gift is to thank Mike for his hard work, dedication and enthusiasm for the job, in working closely with the Greenfield and Horndale community in Aycliffe.
Martin Carter, one of the residents who organised the gesture, is pictured handing the wedding card and gift to Mike outside the Evangelical Church, Ladybower Walk, along with other neighbours including councillor Dorothy Bowman.
The 28-year-old officer, who is due to join the police force as a fully-fledged PC next January, is due to get married to his girlfriend in Greece in September.
"We just wanted to say thank you to Mike for his commitment to this community," said Martin.
"He and his colleagues do a tremendous job. They're extremely pro-active in what they do and are in constant touch with residents to make sure everyone is happy and feels safe.
"He also has a great way with youngsters and knows how to handle and amuse them, while keeping them in check at the same time, which is a rare quality."
Cllr Bowman added: "Mike always demonstrates outstanding dedication and commitment to the job and he's a pleasure to deal with, we hope he and his girlfriend enjoy the gift and have a lovely wedding."
Mike was overwhelmed by the gift, saying: "I'm really over the moon, it's such a touching gesture.
"I'm privileged in that I work in such a lovely place with lovely people, so coming to work every day is a real pleasure."